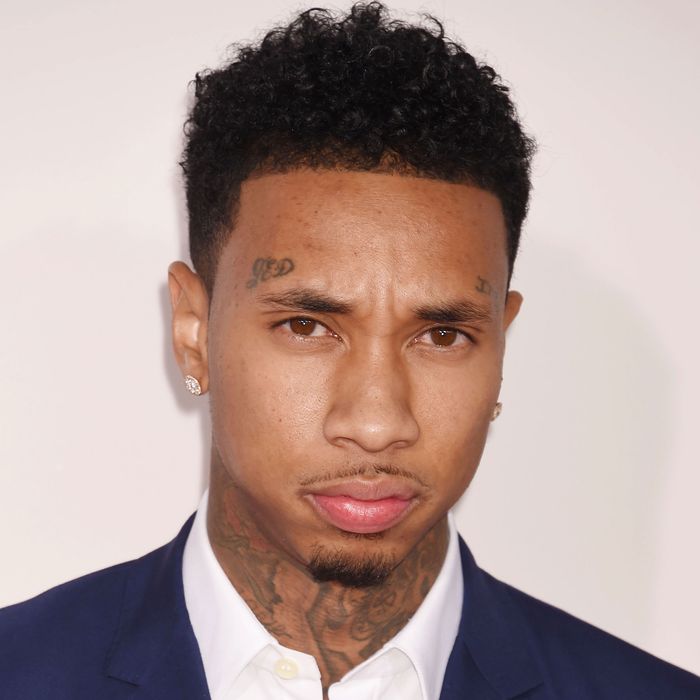 25 or 6 to 4?
Photo: Jeffrey Mayer/Getty Images
Tyga, a man who is allegedly "famous" for his adjacent connection to the Kardashian dynasty, was featured in Us Weekly's phenomenal "25 Things You Don't Know About Me" section this week, which is both a blessing and a curse. A curse because how many times do we have to explain that we don't care to know anything this joker, but a blessing because now we can play a fun game. Everyone loves a game, especially a guessing game.
In Tyga's questionnaire, he reveals several things about himself that we "didn't know," even though we didn't really ask. Here are three of the 25 facts, pulled at random:
1. Mint chocolate chip is the greatest ice cream flavor.

8. I have a bunch of arcade basketball games in my house to shoot hoops.

25. Halloween is my favorite holiday. Boo!
At this juncture, how old would you say Tyga is? 8? 7? Let's keep guessing. Here are two more facts about Tyga that you didn't ask for:
15. I'd rather fly on a 10-hour flight than a four-hour, so I can get a full night's sleep.

16. I can't sleep longer than five hours.
Tyga reveals himself to be a piss-poor mathematician, so he must be no older than 6 or 5. But if he can't sleep longer than five hours, perhaps he is no more than a tiny infant? Let's continue.
20. I recorded my first song in my closet when I was 12.

21. I started getting tattoos at age 14. I have 50.

22. The first time I met my mentor Lil Wayne was when I performed with him at the VMAs in 2007.
All of these riveting tidbits about Tyga reference a year or an age, but the verdict is still out.
7. Nothing's better than a freshly baked cake — and a gorgeous girl to bake it.
You know that? We're sick of this game. Who wants to play Parcheesi?