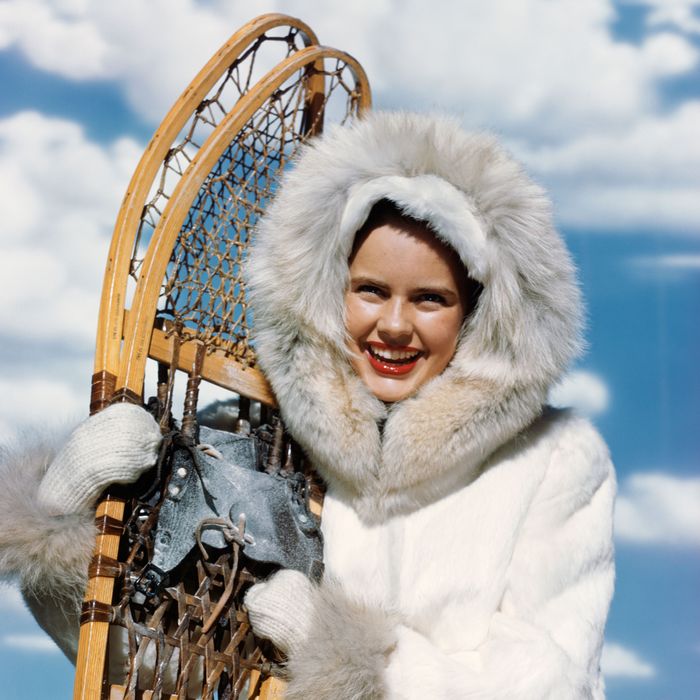 To protect your body from the cold, you stocked up on pom-pom hats, Muppet furs, and parkas. But what should you be doing to protect your skin? What is the skin-care equivalent of a Canada Goose parka? The Cut spoke to several dermatologists to figure out the best way to transition your skin care from fall to winter. Read on for the truth about face oils, the trick to picking the right winter moisturizer, and the reason you need a pan of water in your apartment. 
1. Life's heavy, but your moisturizer doesn't have to be. As with sweaters, thicker isn't necessarily better. Although your first impulse might be to reach for the richest moisturizer you can find, ask yourself this: Do you break out easily? Do you have oily skin? Then put down the La Mer — it's a recipe for pimples. As a general rule, creams are heavier than lotions, which are heavier than ointments, but Dr. Perricone stresses, "It's not the viscosity of the products that makes the difference; it's the level of active ingredients." The most important thing is to find moisturizers that really penetrate and hydrate the skin. And if you're breakout-prone, dermatologist Dr. Macrene-Alexiades says, "You may not use petrolatum- or oil-based formulas, or you will break out."
2. The best winter moisturizer for you depends on your type of skin. If you have normal to combination skin, try Elemis's Pro-Collagen Cream, a rich formula that feels like velvet and won't make you look patchy, even in cold winds. If you have dry skin, try Shiseido's rich Benefiance Cream. And if you are breakout-prone, try 37 Actives, a moisturizer formula by Dr. Macrene-Alexiades that contains lipids without oil or petrolatum. You could also try Belif's True Cream Aqua Bomb, a cult Korean skin-care favorite that's a gel-to-cream moisturizer, so it doesn't feel too heavy. If your skin is very, very dry, Cosmetic Dermatologist Dr. Paul Jarrod Frank suggests you try applying a light layer of an emollient moisturizer like Aquaphor, which seals in moisture, followed by another cream moisturizer on top.
3. Face oils don't hydrate the skin. I repeat: Face oils do not moisturize. Face oil is the apple-cider vinegar of moisturizers, in that people think it's automatically the answer to everything. However, Dr. Frank clarifies that oil isn't readily absorbed into the skin, which is why it can make you feel greasy. "The bad news is that face oil doesn't penetrate the skin. But the good news is that it can give you a glow and add a protective layer from wind and outside forces. But it won't hydrate the same way a cream or ointment would." The best way to use face oil is to incorporate a few drops of it into your moisturizer so you get the benefits of a moisturizer and face oil. Try La Mer's the Renewal Oil or Tatcha's Gold Camellia Face Oil.
4. Get a humidifier. The enemy of your hair is a friend to your skin. You don't need to win the Powerball to temperature-control your environment. Most places, including your office, are warmed with dry heat, which, as the name would imply, dries out your skin. Using a humidifier, like this Ultrasonic Cool Mist one, will allow you to adjust the water level in your environment. Dr. Macrene-Alexiades suggests trying to maintain a 50 percent humidity level. If you can't get a humidifier, she says a clean tray of water on the radiator next to your bed will work, too.
5. Keep your showers and baths short and not too hot. The shower is not the time to get lost in your thoughts. All of the dermatologists insist that you shower like the National Resources Defense Council is watching you. The ideal temperature is lukewarm, sort of like your feelings toward oatmeal cookies.
"Water is not hydrating to your skin. It can be the enemy if you have dry skin. It's the natural oils that you want," explains Dr. Frank, and water washes natural oils away. Excessively hot water also dehydrates the skin. "If the water you use on your skin is too hot, it will dilate capillaries in order to cool itself, resulting in redness," says Dr. Macrene-Alexiades.
6. Moisturize like you're on the clock. Because you are! Dr. Macrene-Alexiades says, "You cannot get your moisturizer on quick enough." After washing your face or getting out of the shower, lightly pat your skin dry and start applying moisturizer immediately. You don't want your face to be wet because that will dilute the product, but your skin can be slightly damp. "Pores are most open after [skin's] been washed. They're like mouths that are open to be fed, and it's best to do that on freshly washed skin," Dr. Frank says.
7. Eat more fish. Dr. Perricone suggests that you make a few changes to your diet to keep your skin supple. First, eat more foods with omega-3s, which includes basically everything in the fish family: salmon, sardines, anchovies, sablefish, and halibut. If you can't do that, you can take fish-oil capsules instead. He also suggests avoiding coffee because it's a diuretic, and alcohol because it accelerates dehydration. Also, "avoid sugary, starchy foods, which cause an inflammatory response in the body and exacerbate a host of skin problems from wrinkles to dry skin to acne, eczema, rosacea, etc.," he suggests. At least you can still eat sushi.
8. Don't exfoliate too much. If your skin is already dry and flaky, don't exfoliate more than you normally would. Dr. Macrene-Alexiades suggests taking out peeling agents or harsh exfoliators, as "these will further weaken and strip your skin barrier at a time when you need it most." You're not using micro-bead exfoliators since they're now banned, but if you're using a salicylic- or glycolic-acid cleanser to exfoliate, try substituting with a gentle cleanser instead.