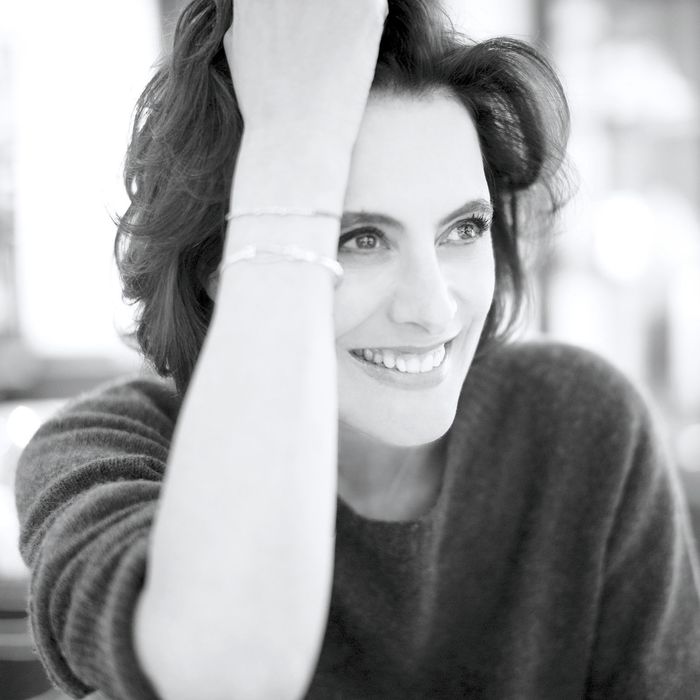 Inès de La Fressange is coming out with a second book about Paris.
Photo: Alessanda d'Urso/Flammarion
"Nice paper and a lot of pictures" were Inès de la Fressange's two major requests to her publisher as she embarked on the Parisian Chic City Guide, the sequel to her New York Times best seller Parisian Chic: A Style Guide, which was translated into Polish, Portuguese, Japanese, and Chinese, among other languages. The book, which comes out in February from Flammarion, focuses on the little-known spots de la Fressange has become an expert at locating. "If people want the address of Prada, they don't need me," she says. "It doesn't mean I don't like Prada, but they have a smartphone [for that]. Nowadays, when you can see everything on the internet, there's sometimes too much choice."
De la Fressange, who is best known as Karl Lagerfeld's longtime muse and as a brand ambassador for Roger Vivier, is also on her sixth season of an ongoing Uniqlo collaboration. "I work for L'Oréal, also, because I'm worth it," she says of her latest modeling gig as a face of the brand. Despite being this busy, she didn't find writing the guide to be that taxing. She justifies it as follows: "This way I am less guilty [about] being a shopaholic and going out to discover places, because at least now it's useful."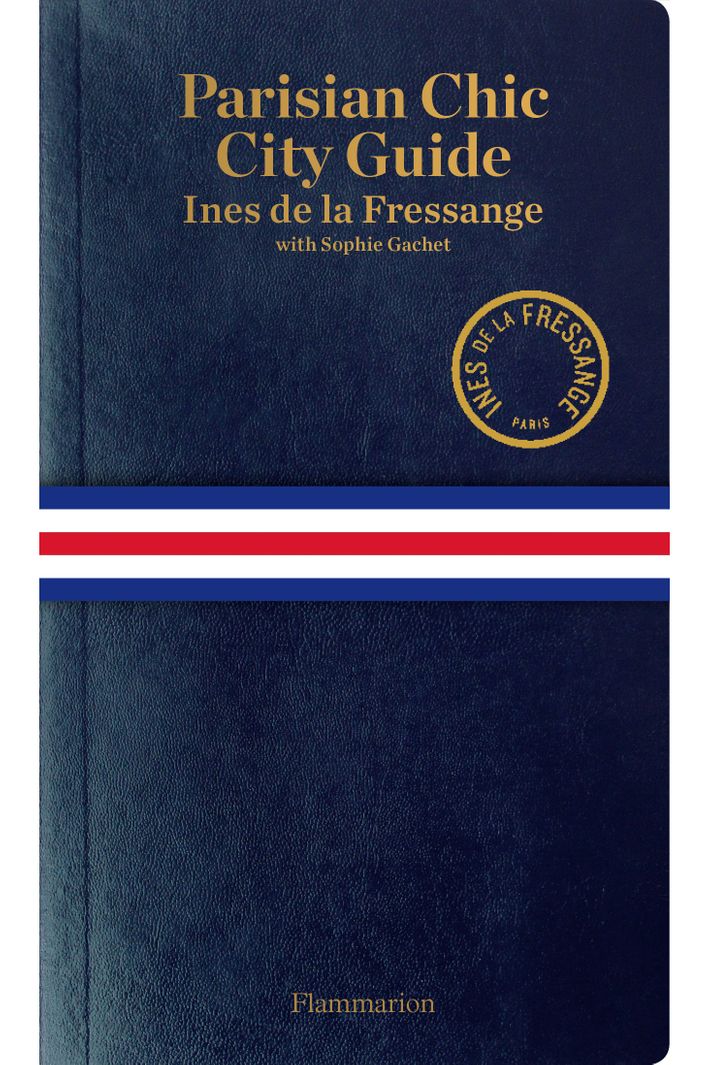 That doesn't mean all of her recommendations are tiny independent brands. She included the 19th-century pharmacy Buly 1803, mainly for its belle époque charm. "All the sellers are dressed up in black with little white collars. It's so much from another time," she says. "I always think that when people come to Paris, they're looking a little bit for the cliché of Paris, which would be the Amélie Poulain, Maurice Chevalier atmosphere. But I have nothing against cliché. If people come to France expecting a real Disneyland, why not? Because we French people, when we go to America, we want to be in a diner and have a huge milkshake." (When de la Fressange last came to our shores, she was on a touristy mission to track down the perfect pair of cowboy boots, which she admits was "a little bit like someone coming to Paris to buy a black beret.")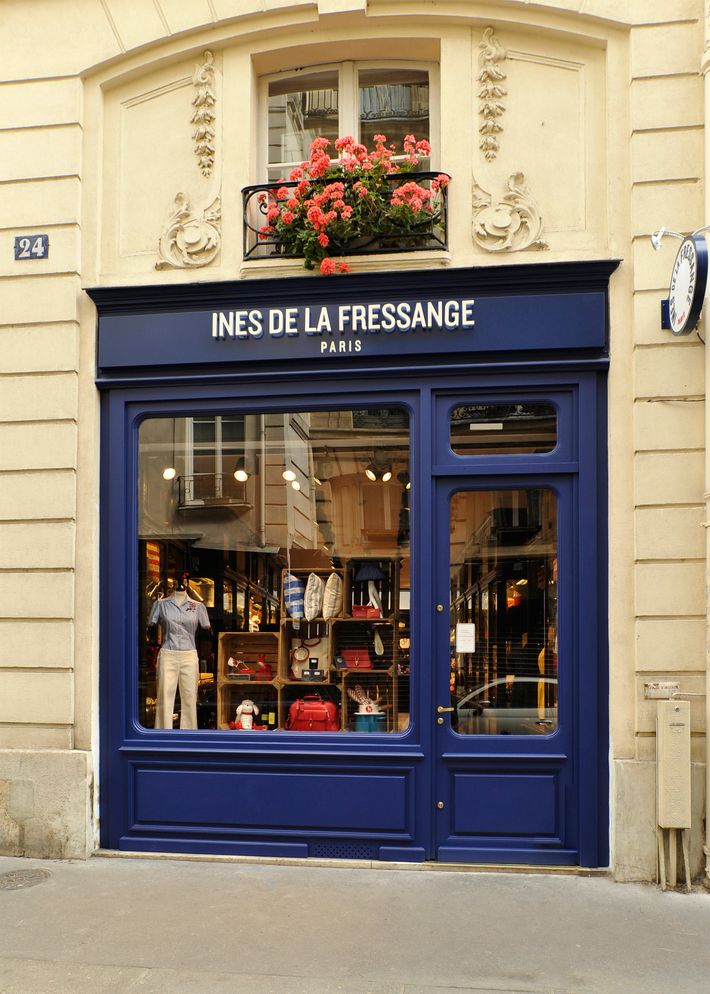 Also on the roster: her own store, which she's characteristically nonchalant about. "My shop is a real joke. It's like a hardware store. You can find brooms and baskets and even toys for children." On her travels, she is always looking for new things to add to the shelves: pareos she found in India, Provençal olive oil, and a special variety of tea. There is, of course, plenty of fashion to be had, some of it sewn at an atelier in the shop. "You can see the women [sewing] the clothes right there, which I find quite luxurious, to have things done [made-to-measure]," she says. "It's not haute couture, but it's nice work."

De la Fressange answered our Taste Test to gauge some of her fashion and pop-culture preferences.

What does luxury mean to you?
I think handcrafted and small-quantity things can become the new luxury. Now that you go everywhere and the Uber driver can have the same glasses from the same brand [you do], luxury doesn't mean anything anymore. And it's more chic to have something you can't find anywhere. In my shop, I sell espadrilles that cost nothing, but I think they're very elegant.
What are you looking forward to for 2016?
Now that I'm an old lady, what I wish is to have more free time. I don't want to be like these wonder women of the '80s. I'm happy about all this success, but what is more difficult is to learn to live with the present. My wish for 2016 is to have more time with my friends — as my daughter says, "chilling." Doing nothing. I don't have the energy of Diane von Furstenberg — she's fantastic, I love her, but I'm a lazy French girl.
Favorite neighborhood?
I really love the Left Bank, because even if you get lost in all these little streets, everything is very beautiful. Like around the Panthéon, and all these little streets around the Café de Flore. I think it's like being in a French movie!
Favorite up-and-coming designers in Paris?
Haider Ackermann and Guillaume Henry. And of course I still love Isabel Marant, but she's not up-and-coming. She's very "up" already.
When you do leave Paris, what's your favorite local getaway?
Provence is great, because it's just two and a half hours away on the TGV [high-speed train]. There are so many beautiful landscapes, churches, and museums to see. And it's sunny!
Dream collaboration?
For years, I was saying a hotel. Because I think hotels are too much alike, without identity, or they're too modern for me. In New York, I went to the Ace Hotel, and it was not bad, actually. But now I'm too lazy to imagine decorating a hotel. Now my dream would be just the opposite — to go to Savile Row, to Anderson & Sheppard, and to order plenty of outfits: jackets, tuxedos, etc. I would do my own collection at Savile Row, and other women could get inspired. The other day, I saw this old movie with Katharine Hepburn, and she has a velvet tuxedo jacket. I'm sure Anderson & Sheppard could redo that perfectly.
This interview has been edited and condensed.