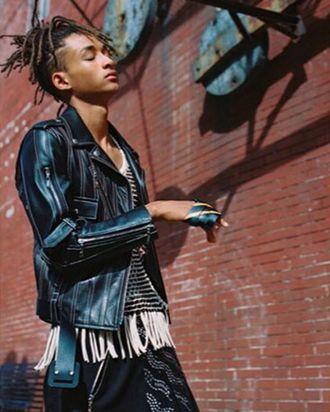 Jaden Smith for Louis Vuitton.
Photo: nicolasghesquiere/Instagram
Nicolas Ghesquière's Instagram feed appears to be the place to go for all your Louis Vuitton campaign updates. After he posted spring 2016 ads featuring Final Fantasy character Lightning and actress Doona Bae, the designer is now previewing yet another face of the brand: Jaden Smith.
Photographed by Bruce Weber, Smith poses solo in one shot, and in another is alongside models Jean Campbell, Sarah Brannon, and Rianne von Rompaey. He's wearing a leather jacket and skirt from the collection — not a huge departure from his off-duty look. Naturally, the ageless seer is pictured in both shots with his eyes shut — perhaps watching his favorite movie, The Age of Adaline, via some sort of futuristic device.