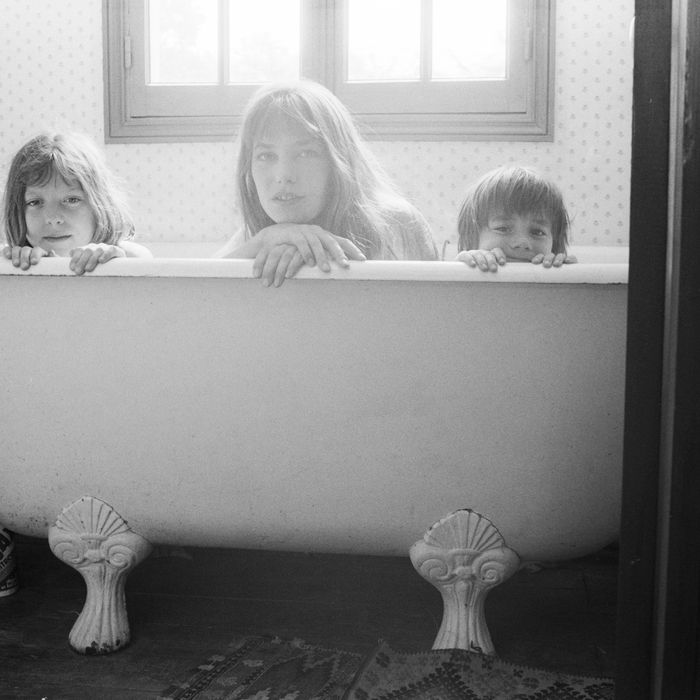 Jane Birkin with daughters Kate Barry and Charlotte Gainsbourg.
Photo: Francois Pages/Paris Match via Getty Images
Between the controversial music video for "Lemon Incest" and the controversial movie Charlotte for Ever, Charlotte Gainsbourg's relationship with her father, Serge Gainsbourg, gets a lot more attention than her relationship with her mother, Jane Birkin. But if there was ever a mother-daughter duo to emulate, it would be Jane and Charlotte. Their rapport is on full display for admiration this weekend in a Film Society of Lincoln Center retrospective featuring their most provocative and well-known works, including La Piscine, Kung Fu Master, and Anti-Christ.
For the next week, "Jane and Charlotte Forever" takes viewers through 19 movies that showcase Birkin's great gene pool. The selections manage to showcase how both Jane and Charlotte became icons of film and fashion, and how their roles onscreen, offscreen, and behind the camera influenced each other's body of work. In addition, the retrospective includes a mother-daughter Q&A and an exhibit of photos by the late Kate Barry, another of Birkin's daughters.
In advance of the series, which opens tonight, the Cut spoke to Birkin about being a mother, being a fashion icon, and why it doesn't really matter if stars use a Birkin for a diaper bag.

Can you start by telling me why you have decided to do this mother-daughter retrospective now?
To be with Charlotte! [Laughter.] I love to be with Charlotte.
Would Charlotte spend a lot of time with you on set when she was a child?
Yes, as did her sister Kate, my eldest daughter. That was so fun, to see them hold hands underneath the camera, or on some really stupid films I made in Italy. They would be just behind the décor. On one occasion, they were telling me what my lines were. I really didn't take it very seriously. If it was the summer holidays, it was fun because I could take a house. That made me happiest, being with Charlotte and Kate. I found my diaries — I'm writing a memoir, and I had to go through a few the other day. I was amazed to see such hardness when I was only 17. And then I started [being pregnant] with Kate, and I was just so different. All of a sudden I felt that I had confidence at last. I didn't have it in cinema, I didn't have it in the theater, but having babies, yes.
You felt like you were a natural mother?
It was just lovely to have that friend inside. It was just so divine. I couldn't really think of anything better. It was so wonderful and so comfortable. I really didn't think anything else would be able to live up to that.
How did being a mother make you a better artist or actress?
I don't think it did, in any way. That didn't come into it at all. My private life with them was just more exciting than most things I did onscreen.
What lessons have you learned from your adult relationship with your children?
I have always been rather in awe of them, because it seemed to me that they were doing a great job. Charlotte will send me emails from the set, telling me everything she is going to do. In the last one she was, like, hacking her legs off — I don't know what — in the forest. And there I was, rather boring, waiting for someone to give me the text to learn while filming my own movie. Her situation was so funny that it just made me very, very happy. Now it's Lou who sends me texts from Australia and South Korea and Japan while she travels alone. And when Kate was around, she would show me her photos, so I could see all the beauty she had made. I found that very generous. I never used to share with my family because it seemed like boasting.
Right now there's such a big conversation about the need for more diversity in film, more women making film. Was that conversation happening when you first started your career in film?
I find actresses more attractive than actors — I mean except for that gorgeous actor. What's his name? He's got sort of harelip. There's only one. He's wonderful. He was in the Woody Allen film just recently. C'mon.
Anyway, I've always thought that women's roles were much more interesting, too. There were always great women. When I was young it was Bergman and all the women in his films. They were bewitching. For me in the 1950s, it was Shirley MacLaine. They were just so fascinating. And they've gone on being fascinating. But now there are more women making films. There wasn't hardly anybody when I got started. I think actresses go behind the camera with more ease. I would love to do a film with an actress who just got behind the camera. What I understood when I directed just those couple of movies is that you want her to be at her very best. You'll never forgive yourself if she hadn't been the most wonderful she could be on film.
For many American women, your style represents what is so alluring about British women and French women. What do you find appealing about American style?
American actresses seem to be very brave. Katharine Hepburn had style, and she dressed like a boy — a very elegant boy. And Audrey Hepburn, too. Oh God, was she beautiful. I think it would be very exciting to be young and American. For me that was more fascinating than it was in France because the mode was always women of 40, which seemed to us very ancient. In London we were terrorized by French girls in the metro because they all used to laugh at us. We had shoes that didn't match our skirts, didn't match anything, and they were all impeccable.
What were moments in French and British fashion that inspired similar bravery or excitement for you?
The 1960s, with "swinging London" and things like that, it meant that we had a certain confidence that English girls hadn't had before. After that it was France, when Saint Laurent decided to do prêt-à-porter. I remember when Saint Laurent announced that, Serge goes, "Well, I make songs that are haute couture." [Laughs.] What a mean thing to say, because we loved Saint Laurent! It was teasing, but he was so sad that Serge would have said anything so terrible. But it was so revolutionary what Saint Laurent did, because he dared to make clothes that were accessible to people who didn't want to wait until they had a rich husband.  
Does it bother you at all that certain elements of your style — like the Birkin bag — have become so separate from your own style? You know, Kim Kardashian famously uses hers as a diaper bag.
I'm not worried about it at all. It's good fun. You know, I was at a show, and I introduced myself to someone and they go "Jane Birkin … Birkin. Like the bag?" The bag is more famous than I am at this point. [Laughs.]
What was your bravest fashion moment?
I think it was when I was 30. I did a show where I was singing at the Bataclan. I was going to sing for the first time, because everything I did with Serge was in playback. We didn't have to sing the songs for television, you just mouthed them and pretended you were singing. My agent said, "Do you want to sing a concert?" And I said, "One day, maybe." And he said, "This might be your last chance." I thought that was a bit rude, but I said yes, yes, I would be interested, and I started learning the songs.
The first night of the concert, or a couple of nights before, Serge asked, "What're you going to wear? What sort of a dress?" And I said, "It won't be a dress. I'm going to wear a men's coat." He said, "But you'll do your hair with curls in it." I said, "No, no. I'm going to cut all my hair." Then I got in a taxi and he had a little pair of scissors that we used for cutting nails. I cut my hair off and I wore a boy's shirt and a boy's pair of trousers with a very small red belt and tennis shoes, and I felt great.
Before I felt that people were going to come and listen to Serge's songs and I would be so transparent, invisible. So, no, I wasn't going to swing my hair around like Serge wanted me to or lick my lips, which is what he thought I should do. Because that was the person he had known before. Such a Lolita, I didn't want to do that anymore. It was really something and especially for a pin-up girl like me. I think it changed my life after, too, and proved that I could do very much what I wanted to do.
What do you want to do now?
Now that I'm in my 60s, I would love to just design a season of clothes somewhere, because I think I know what would make someone look really pretty at 60. I would like to do it because I know absolutely what makes you feel comfortable. I don't know, people going up catwalks at 69 might not be what people want to see, but it would be good fun.
Well, if you ever decide to do it, please let us know. You have our full support.
Thank you. I will. Oh! Joaquin Phoenix was the name of the boy! Immediately after I saw him in that Woody Allen movie, I was on the internet to look him up very fast. Gosh, he's good. Fascinating to watch. He had to do an entire film where the girl was in his telephone! It seemed to be a skinny sort of plot but he made it fascinating. That's who I meant.

This interview has been edited and condensed.