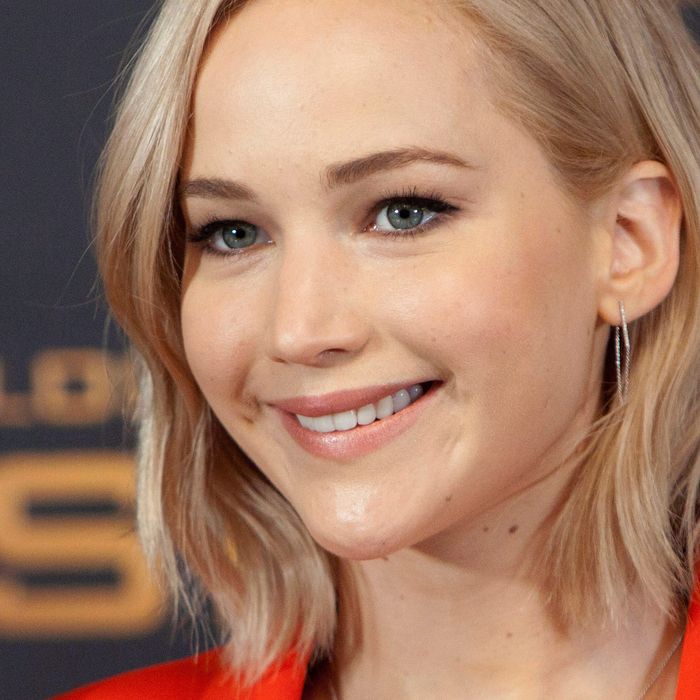 "I want people to have less me."
Photo: Abraham Caro Marin/Corbis
Jennifer Lawrence covers the February issue of Glamour and closes her interview with a wish: "I want less me. I want people to have less me. … I feel like I'm over-paid-attention-to. I'm not trying to be a GIF. I'm not trying to be a picked-up-on-Twitter quote. All I'm trying to do is act." Huh. Let's check out what else she said!
Lawrence, currently the face of Dior, explains she started caring about fashion somewhat recently in order to resist becoming "a puppet that's being dressed by everybody else." She describes her style:
"'Slutty power lesbian.' That is literally what I say to a stylist. [Laughs.] I don't know if that's offensive —"
Wow — "slutty power lesbian," just like what you tell your stylist privately, because you are unsure about whether or not it is offensive. But if that's what she tells her stylists, why don't we see her dressed as a slutty power lesbian more often? She explains:
"Well, first of all, Dior is its own house that's very feminine and beautiful; this past press tour every dress was just phenomenal. So you don't see me as a slutty power lesbian on the red carpet a lot, because I'm embodying the Dior woman, which is an honor. … But [also] I've got tits and an ass. And there are things that are made for skinny people — like a lot of embroidery, or it covers a lot — and those make me look fat. I have to show the lumps. If you have boobs, you have to show, like, 'These are boobs. This isn't cellulite.' [Laughs.] Not that there's anything wrong with that."
And here she is on managing to carry a movie — and break box-office records — while having a period:
"Yeah, we broke that record, and I didn't even realize. As women we don't know we're at a deficit because we have vaginas. It wasn't until they had a headline like, 'Even though she's a woman!' And I was like, 'Oh. I didn't know to be looking out for that.' [Baby voice] 'How did this wittle vagina manage that? I carried a whooole movie.' [Laughs.] 'How did I do it, getting a period once a month?'"
And on the life plan she has with Amy Schumer:
"Amy and I have a life plan — we were with Diane Sawyer in Martha's Vineyard for Thanksgiving. Not to brag. Diane politely threw it out, and then we're sitting at the dinner table with her family, like, 'We shouldn't be here.' Anyway, Amy's always wanted to live on Martha's Vineyard, and we saw this house, and we're like, 'This is where we're gonna Grey Gardens, and we're gonna grow old and crazy together.' That's our life plan."
And here's Jennifer Lawrence on how she masturbated to Larry David's Bernie Sanders impression on Saturday Night Live:
"Yes! I masturbated to it."
And here's Jennifer Lawrence on how she was just joking about masturbating to Larry David's Bernie Sanders impression on Saturday Night Live:
"Joking. Obviously didn't."
And Jennifer Lawrence on how she does think Larry David is hot, though, especially considering she gave him her number and he never called:
"I love that he didn't call me. It makes him so much hotter."
Etc., etc. She says so many things, they're all good, and you can read them all in the full interview — if you want!