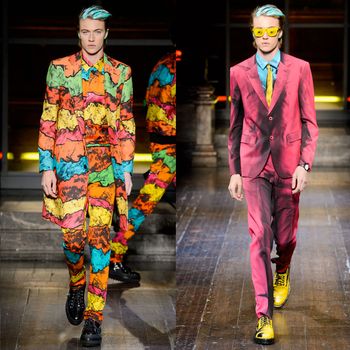 The models' hair and ears were slicked with colored paint, like they'd walked straight off the pages of a comic book.
Photo: Imaxtree
In the last few seasons of menswear, Jeremy Scott has sent models down the runway in glittering skiwear, logo-emblazoned "fakes," and, most recently, actual crowns. Now, for fall-winter 2016 menswear and pre-fall womenswear (shown together on Sunday), he has turned his eye to high culture, with a full-throttle tribute to the anarchic artists Gilbert & George.
There was the usual pre-show frenzy at last night's event in London. Moschino showed in Florence last season, depriving London Collections Men of what has previously been its biggest, most shamelessly populist show — so it was welcomed back with impatiently open arms. Guests elbowed through crowds to enter One Mayfair, a grand former church in London's wealthiest neighborhood, complete with high stone arches, wooden balconies, and glittering chandeliers — not to mention the word MOSCHINO mounted in enormous letters above the runway.
In a nod to the setting, the soundtrack began with a robotic chant of "Hallelujah!" — and yes, there was much to praise. Scott, who apparently visited Gilbert & George for tea in order to request their involvement, was given permission to sample anything he liked from the artists' archive. This meant scatterings of multicolored crucifixes (worn with attitude by Jourdan Dunn), provocative slogans ("POWER," "FEAR," and "SPUNK" included), and photographic prints of the artists themselves on sweaters and coats.
Most interestingly, Scott started the show with a series of bright, trompe l'oeil-like suits, in which he used Gilbert & George's technique of shading and highlighting in black and white to suggest folds and seams in the fabric. The models' hair and ears were slicked with colored paint, like they'd walked straight off the pages of a comic book. There were also punk notes to the collection, with checked shirts and combat boots; Ruth Bell, in opaque, painted sunglasses and her trademark buzz cut, was the perfect fit for the look.
The men's streetwear, which included backpacks, bomber jackets, and kiltlike skirts layered over trousers, was very much in keeping with other young designers showing at London Collections Men recently, from duo Agi & Sam to Astrid Andersen. This was a collection that would have seemed out of place in Florence; it belonged to the U.K. The show finale played out to a rave version of Madonna's "Like a Prayer," with the piped-in sound of crowds cheering; it was Moschino's most religious experience yet.