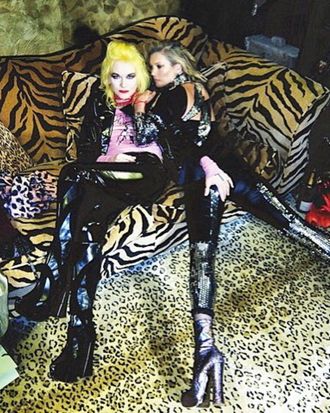 Kate Moss had a better birthday than you.
Photo: pamhoggfashion/Instagram
Last week, Kate Moss paid sartorial tribute to the late David Bowie with a T-shirt bearing his image and glittery platform boots. And her Bowie homage didn't stop there: While celebrating her birthday this weekend, she threw a Bowie-themed party and wore a Pam Hogg sequined catsuit from 1991 that channeled the star's glam-rock days, paired with those same sparkly boots.
The supermodel remains pretty social-media shy, but Hogg posted a post-party snapshot of herself and Moss, taken by fashion photographer Mert Alas, writing, "Bowie flashes of stardust inspiration forever."