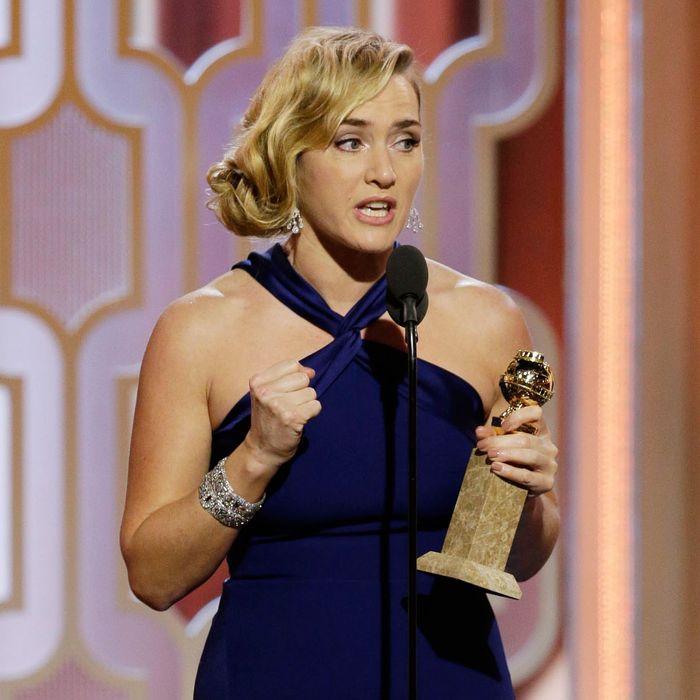 Winslet was the first win of the night.
Photo: Paul Drinkwater/NBCUniversal via Getty Images
Kate Winslet was not expecting to take home a Golden Globe. In fact, Winslet was so sure she'd be leaving sans-Globe this year that she scheduled a 9 p.m. neck massage, she told reporters backstage.
Winslet admitted she's been having a recurring neck problem — to which she had every intention of tending as soon as she left the Beverly Hilton Hotel. After all, self-care comes first. But after taking home a Best Supporting Actress win for her role in the biopic Steve Jobs, Winslet's post-Globe plans changed just a tad.
"And as I was about to leave the hotel to come to the red carpet I realized that actually [my neck] has been hurting quite a lot all day so I went and booked a massage for 9 p.m., which I think I am going to have to cancel," Winslet said.
Although her evening fun might be squelched by some nagging neck pain, Winslet promised to celebrate as much as possible. "But I am sure my husband will drag me out on the town, and quite right," she added. "I will be hanging with him."
Winslet has more than just her win as reason to party the night away. In the first speech of the night, she drove home her appreciation of the powerful female-driven roles this awards season. And Winslet adamantly returned to the subject backstage, citing performances by some of her favorite veteran actresses.
"I have been doing this for 23 years now," she said "Cate Blanchett has been doing it for probably longer, actually, and look at Helen Mirren and Jane Fonda. These wonderful women that we are so fortunate to stand alongside and learn from still. It is incredibly exciting to have that array of skill for all of us to be inspired by and to be a part of that."
Whether she's looking out for her body after a taxing night of red carpet interviews and flashing lights or praising her fellow power actresses, Winslet sends off all the positive awards show vibes. And she definitely deserves a long massage first thing tomorrow.