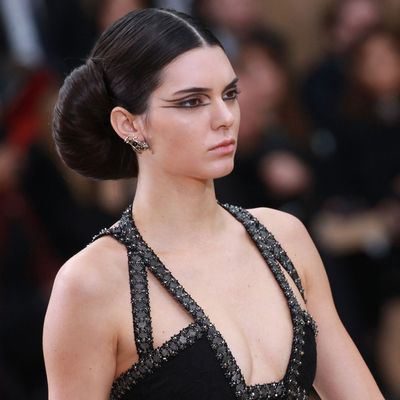 Kendall Jenner at the Chanel Couture show.
Photo: Antonio de Moraes Barros Filho/Getty Images
Karl Lagerfeld's latest spring Chanel Couture collection graced the Grand Palais today, with Kendall Jenner leading the designer's muses up a verdant runway into an ecofriendly dollhouse. Resembling Princess Leia in a croissant-shaped bun and cat-eye makeup, Jenner led a cast that included the designer's favorites: Gigi Hadid in a gold column dress, Bella Hadid with a selfie-ready belt slung around her waist (the most opulent iPhone case you'll never afford), and Lindsey Wixson in silver tweed. It was the first Chanel Couture show for both Hadid sisters.
There were flowery fur bridal hoodies and trains, curved-heel cork platforms, and a multitude of jeweled ivory and textured silver fabrics. After models walked up a pristine lawn into the two-story wooden structure, doors opened and closed to reveal them in little rooms under a superficial blue sky.
Anna Wintour and more Lagerfeld devotees gathered in the spalike setting: Cara Delevingne went braless in a jeweled sheer blouse, sitting in the front row with her husky puppy Leo, while Gwyneth Paltrow chose a fitted check-patterned two-piece and Diane Kruger wore intricate lace tights. Click ahead to see all the looks from the Chanel Couture show.