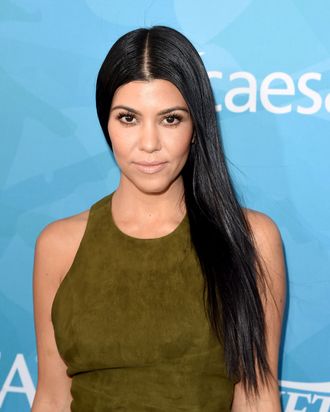 Photo: Jason Merritt/Getty Images
If you're not a true Kardashian fan (no judgment), you may not have caught Kourtney's reinvention as a wellness obsessive. You probably know the other sisters' brands: Kylie's the makeup guru; Kendall's the professional model; Khloé's the workout evangelist; Kim's, well, Kim's just Kim. For a long time, Kourtney's identity was harder to fit into a neat box. She's the oldest, a loving mom, and then there's that long-running troubled relationship with Scott Disick. Now, though, Kourtney (and, we assume, her brand manager Kris) has found her true calling: as a health guru, espousing the medical benefits of Manuka honey on her app and Instagramming herself in sports bras during her many daily workouts.
No one — until now — has attempted to fully chart Kourtney's wellness belief system. After clicking through every single photo she's Instagrammed, reading through her entire app, skimming every magazine interview she's done, and watching every episode of Keeping Up With the Kardashians, Kourtney & Kim Take Miami, and Kourtney & Khloé Take the Hamptons (no DASH Dolls though, I have my limits), here is an obsessive rundown.
Food
Kourtney tries to eat only organic and non-GMO. "Some people know, but I'm crazy obsessed about food," she tells the Coveteur. "I started going through my pantry last night and it was just making me so angry some of the ingredients that are in some of our snacks. I don't do my grocery shopping a lot, because I just don't have time, so I was reading and it looks healthy from the packages, but when you read the ingredients none of it is organic. I'm really into organic. I hate the whole GMO situation." When Kourtney does go grocery shopping, she prefers to hit up Erewhon, a schmancy L.A. organic grocer.
The first thing Kourtney consumes daily is a teaspoon of ghee (clarified butter). It's an Ayurvedic practice that purportedly "lubricates the body with oil, which attracts fats and removes toxins that make fat cells hard to eliminate." Kourtney works with Ayurvedic practitioner and yoga teacher Leila Johnson, who tells E! News, "Everything she eats is very fresh, handmade, less processed, less garbage. We make our own roasted trail mixes. We use coconut oil, raw pumpkin seeds, and other nuts. Kourtney is a ghee goddess! She is obsessed with ghee. She cooks with it and you can eat it on an empty stomach."
"I got really into Ayurveda and did the Panchakarma cleanse [a detoxification treatment involving massage, herbal therapy and other procedures]," Kourtney says in an interview with Natural Health Magazine. "Through that, I met my yoga teacher, who taught me her way of preparing food. We would do yoga for an hour and then she'd stay for another hour and cook with me. That's where I got all of my rules. In our house, we do everything whole: whole milk and full-fat cheeses. And I use ghee and coconut oil for cooking."
Kourtney shares some of her recipes on her new app, including an avocado pudding made with avocado, whole milk, and sugar or Manuka honey (she makes this for Kim in season 11, episode two, "The Price You Pay"). "I try to work out every morning and I have to eat something before I workout. This is my breakfast go-to. Not only is it quick and easy, but the protein from the avocado helps keep me feeling full until lunch," she says.
Beauty
It might sound oxymoronic to call any of the Kardashian ladies all-natural, especially when it comes to beauty. Still, that's Kourtney's philosophy, though she's been known to make exceptions. Natural remedies, nontoxic products — you name it, she's tried it.
During the 2013 season of Kourtney & Kim Take Miami, Scott Disick laments Kourtney's decision to stop wearing deodorant. "She reeks. Only because she doesn't believe in wearing deodorant because she thinks it's bad for her breastfeeding or something," he says. She later tries to make her own deodorant out of ingredients like baking soda and cornstarch.
Kourtney is, unsurprisingly, one of the many celebrities that espouse the benefits of raw coconut oil. "I use it on my skin, my hair, it's an amazing multi-use product," she says to Grazia.
When it comes to makeup and hair-care products, Kourtney isn't as diehard as, say, a Shailene Woodley, but she does pay close attention to ingredients. "I am slowly changing my beauty products over to safer choices," she tells Cricket's Circle. "I make sure that our products for Kardashian Beauty are made of non-toxic ingredients — our list of banned substances is longer than the list at Whole Foods, which makes me feel really proud." That means no parabens or sulfates. "Being a mom, I have become really invested in that — I just feel like once I know something, I can't go backwards and pretend like I don't know it," she tells Into the Gloss. "My friend Sarah sends me lists sometimes, she just sent me one recently with 15 dangerous ingredients, which I forwarded to everyone involved in Kardashian Beauty to make sure that none of the ingredients were in our products. It's hard to do at a mass level, selling with CVS, Ulta, and other stores, but for me, that's the most important thing."
Motherhood
In perhaps one of the most eye-opening and revelatory moments of Keeping Up With the Kardashians' 11 seasons, Kourtney gives birth to her first child, Mason, on television. Viewers watch as she gets ready at home after her water breaks; then, at the hospital, she calmly reaches down and pulls the baby out of her birth canal and on to her chest (a move she repeats during her daughter Penelope's birth).
Kourtney often testifies that having kids is what sparked her interest in wellness. "I was big on breastfeeding; I nursed my first for 14 months and my second for 16," she says. "That was important to me. Then I began making their baby food myself, all of it organic. After that, I was super cautious about what to introduce into their diets." Kourtney's been very public about breastfeeding and pumping, Instagramming herself in the act multiple times. She also is a fan of placenta encapsulation, calling her placenta pills "life changing."
Kourtney practices attachment parenting, telling Redbook that "both Mason and Penelope still sleep in my bed. It's what came naturally to me; I didn't plan it. When I had Mason, I just felt really attached to him, and wanted to bring him everywhere." She tries to treat her children with natural remedies, including Manuka honey. On her app, Kourtney writes, "It keeps us from getting sick! I give this honey to Mason and Penelope all the time (Reign is too young). Whenever anyone in our family doesn't feel well, they get two giant spoonfuls ASAP."
Fitness
Kourtney also works out five days a week, which she says helps her to cope with anxiety. She's strangely vague about what, exactly, her fitness routine is. Kourtney might be cool with sharing her whole-grain oatmeal recipe (whole milk, oats, sugar, salt, cinnamon, banana), but we're still in the dark on how to achieve her physique. Perhaps that's because she doesn't want to step too far onto Khloé's turf (Khloé trains regularly with celebrity-fitness guru Gunnar Peterson). On her app, she writes, "I usually start with a quick run or jumping rope to warm up. I have to do something fast to really kill it."
"She works hard, too. I'm so proud of her. Like it's so hard to work out, like so hard … She is, like, on and popping right now … She came out of nowhere. I wasn't really expecting that out of her. All of a sudden, she side-swiped me," says Khloé in season 11, episode seven, "Return from Paradise."
As Kourtney might say, it's not just about working out, or ghee, or breastfeeding. This level of attention to her body: This is a lifestyle. Stay tuned for the inevitable Kourtney Kardashian recipe books and maternity bras soon to follow.