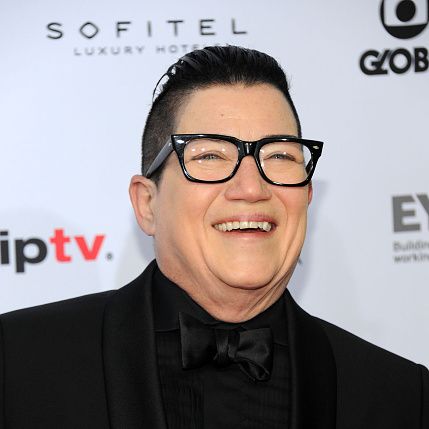 Any event where Gloria Steinem sits front and center is bound to make for a good night. But when Orange Is the New Black's Lea DeLaria hosts (and wears a Dolly Parton shirt on the royal songbird's 70th birthday), the evening is better than perfect.
At the Ms. Foundation anniversary comedy show, "20 and Funny" Tuesday night at Carolines on Broadway, DeLaria took time in between sets from comic talents Lizz Winstead, Judy Gold, and more to entertain guests with her musical stylings.
DeLaria, who plays Big Boo on the Netflix hit, is also a jazz singer, where she combines David Bowie's music with her own smooth jazz mix in a new project, House of David. Tonight, she will bring her show to the Smoke Jazz and Supper Club, but in case you miss it, upload the album on Spotify and Apple Music.
Here's a little insider knowledge: A melodic scat riff can actually mean anything from "I left my oven on" to "I want to take a selfie with Gloria Steinem so I can use it for a back tattoo."
I mean, I think the latter is what everyone in the room wanted to sing.