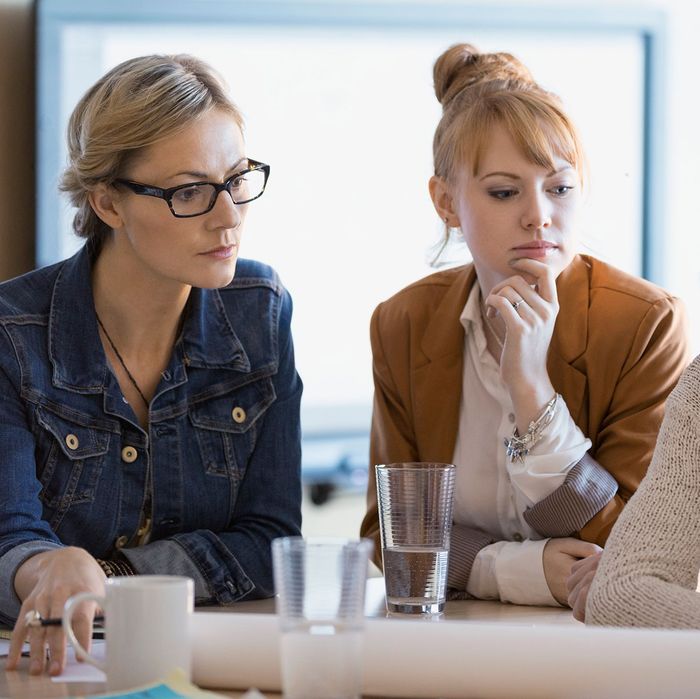 Photo: Hero Images Inc./Corbis
The millennial mind continues to baffle baby boomers, their parents, and people who host morning talk shows. What do millennials want? Skateboards? Gushers (only '90s kids will get this ref)? Part-time jobs with no health insurance? Small dogs? Furniture from Ikea? What — if you had to guess — are millennials after? An annual Deloitte survey of the millennial generation's wants and needs attempts to get to the bottom of it.
The report, which will be breathlessly scoured by Hillary Clinton's campaign interns, surveyed 7,700 millennials who were born after 1982 and who live in 29 countries around the globe. Dad sirens may be blaring at the fact that over two-thirds of millennials would like to leave their current organizations by 2020, but the report found that there is subtlety to millennials' alleged lack of workplace loyalty, and it affects women most.
Women who were surveyed (67 percent) were more likely to leave their jobs in the next five years compared to men (64 percent), but the gender achievement gap could be playing a part in women's decision-making. Of the millennials surveyed, 48 percent of women said they are "being overlooked for potential leadership positions," while men outweighed women in saying they were leaders in their departments by a 21 percent to 16 percent margin.
David Cruickshank, Deloitte global chairman, writes of the survey results that the report found "women place greater emphasis on flexible working opportunities and the ability to derive a sense of meaning from their work," which led more millennial women to seek jobs that emphasized positive work-life balance. Uh, sounds pretty reasonable.