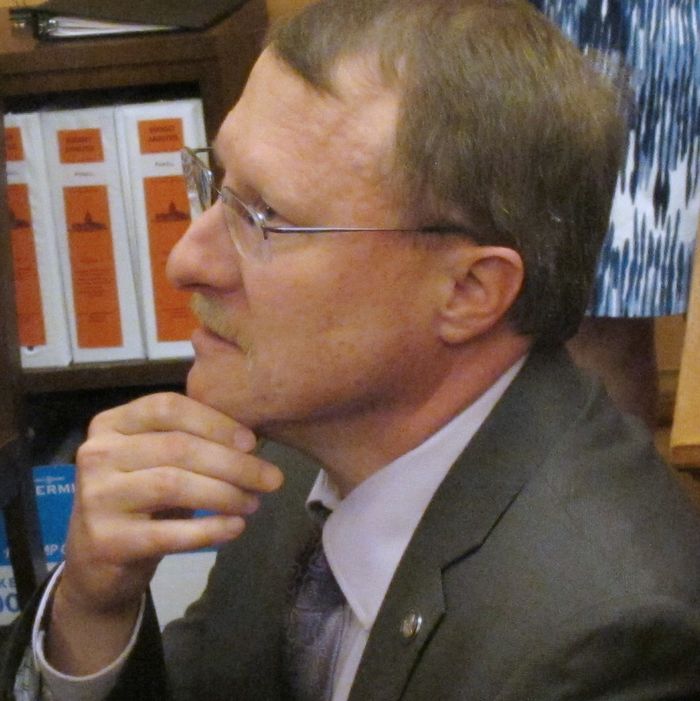 Mitch Holmes, helping a woman learn how she should dress.
Photo: John Hanna/AP/Corbis
Ladies of Kansas, you may have come to the State Senate to speak about an issue in your community you care deeply about, but Republican state senator Mitch Holmes isn't gonna hear a thing because you're distracting him by having boobs.
According to the Topeka Capital Journal, the chairman for the state ethics and elections committee has taken it upon himself to institute an 11-point code of conduct, one point of which is dedicated specifically to women's dress. State Senator Holmes said that he instituted the rule — "Low-cut necklines and mini-skirts are inappropriate" — after seeing a bunch of harlots running around the Capitol improperly dressed.
The rule does not specifically define what constitutes a low neckline or a miniskirt, but Holmes said it was one of those you-know-slutty-when-you-see-it things. "It's one of those things that's hard to define," he told the Journal. "Put it out there and let people know we're really looking for you to be addressing the issue rather than trying to distract or bring eyes to yourself." 
Oh, there's more:
Holmes said he considered stipulating men had to wear suit and tie when addressing his Senate committee, but decided males didn't need supplemental instruction on how to look professional. 
Sooo, can I wear this "GO HOME, HOLMES" shirt if I pair it with a knee-length skirt? Let me know!
[h/t Jezebel]