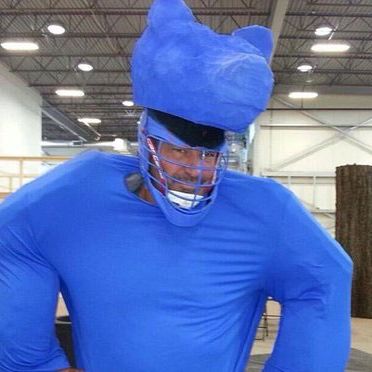 Glenn Ennis, butt non-appreciator.
Photo: Sidonie Sawyer/Twitter
The wait is officially over: The man who plays the bear that attacks Leonardo DiCaprio in The Revenant has finally broken his silence — to complain about how he had to put his face near Leonardo DiCaprio's butt. 
Stuntman Glenn Ennis wore blue padding and a giant blue bear head attached to a football helmet for his supporting role in The Revenant. Producers then painted CGI effects onto him to make him appear like a real bear. But because that "real bear" was supposed to bite Leo on his lower back, that made the logistics pretty awkward for Ennis.
"If you notice the bear head in the picture, they wanted the bear mouth to be right on his lower back," he told Global News. "I was supposed to grab his jacket with my hand to make it look like the bear's jaws were pulling it. In order to have the bear's jaw in the small of his back, basically my face was in his butt. My face was in Leo's butt for a fair bit of time. I can see how that's someone's fantasy, but it wasn't mine!"
Typical dude behavior, not recognizing the privilege all around him.