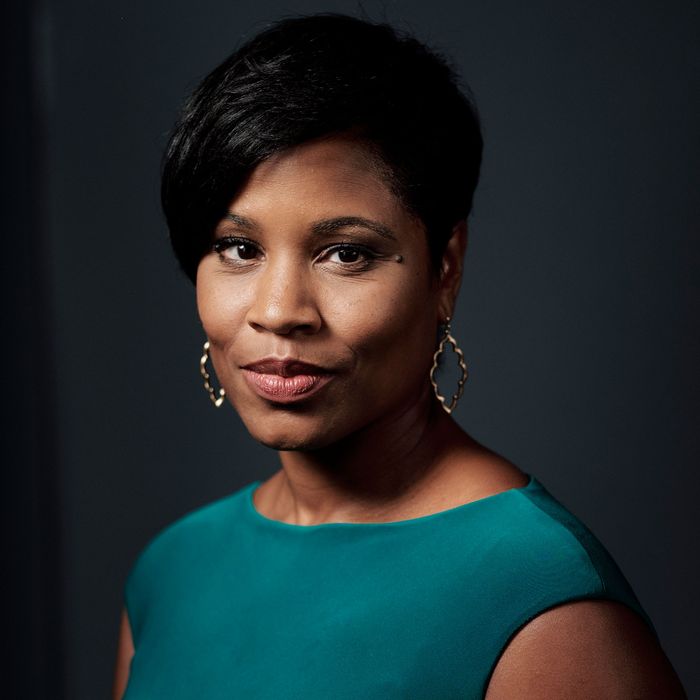 Monique Pressley
Photo: T.J. Kirkpatrick/Corbis
When Bill Cosby was arraigned on aggravated indecent-assault charges last week, he was escorted to and from the Pennsylvania courthouse by a woman who's become his main line of defense against increasing public scrutiny. Monique Pressley, a Washington, D.C.-based attorney who specializes in civil litigation, is part lawyer, part PR wrangler, currently working as the spokesperson for Cosby's growing legal team. Her media strategy appears to be much different from Cosby's former lawyer, Marty Singer, who declined to speak to the press. Instead, Pressley has been consistently hitting back against the allegations facing her client.
Pressley is a Howard graduate who previously served as the senior assistant attorney general in the Office of the Attorney General for Washington, D.C. She's also an ordained minister and has her own "worldwide evangelical ministry." She is nothing if not media savvy, hosting her own radio program and appearing as a legal expert on numerous TV shows. In July, she turned her focus to Cosby, and appeared on Good Morning America after a deposition was released in which Cosby admitted he gave drugs to women. Pressley defended the revelation, reasoning that Quaalude use was rampant in the '70s. "It was considered a party drug called 'disco biscuits' and it was something that was done frequently, not just by Mr. Cosby but other entertainers," she said.
Despite the revealing deposition, Pressley maintained Cosby's innocence. "Mr. Cosby has denied the accusations that have been lodged thus far," she told Good Morning America. "The sheer volume or number of people who are saying a particular thing does not make it true."
In the Pennsylvania case, in which Cosby was charged with sexual assault by former friend Andrea Constand, Pressley intimated that the charges may be motivated by the local district attorney's own political interests. "We expect the DA, who is is highly motivated, who is fulfilling a campaign promise … is going to do whatever he can to convince a judge to consider all types of evidence that do not belong in a court," Pressley told the Today Show.
A cynic might see Pressley's ordination as Cosby's spokesperson as an attempt to make sexist-seeming arguments more palatable to the public. For example, on a recent Today Show appearance, Pressley questioned the victims' reliability because they didn't all immediately report to the police. "What I'm saying is women have responsibility," Pressley said regarding the more than 50 women who have accused Cosby of sexual misconduct. "We have responsibility for our bodies, we have responsibility for our decisions, we have responsibility for the ways that we conduct ourselves." It just might be that "we" — and its implication of female solidarity — that Pressley hopes could save Cosby.