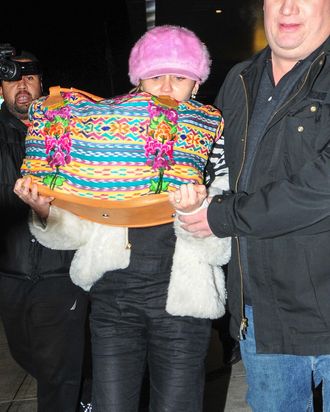 See that rock?
Photo: PapCultureNYC/Splash News
Ever subtle, Miley Cyrus has graced James Franco's bar mitzvah in a thong leotard and worn rainbow nipple pasties on Jimmy Kimmel. Yesterday, she breezed through JFK airport in New York wearing a furry neon-pink hat and a white coat, resembling your fourth-grade Furby collection. Ever practical, she used a Technicolor dream bag by Humble Hilo as a paparazzi shield (it was handwoven by local artisans in Guatemala to benefit humanitarian projects there).
Most notable but nearly invisible was the shining diamond on her left hand, which prompted immediate speculation that it was an engagement ring from Liam Hemsworth. The two are rumored to be back together, with TMZ reporting that they spent New Year's in Australia with Hemsworth's family. Today, she chose to fuel those rumors herself, posting a photo to Instagram with the rock but no explanation. Hollywood Life claims it's the same Neil Lane rock from their first engagement.