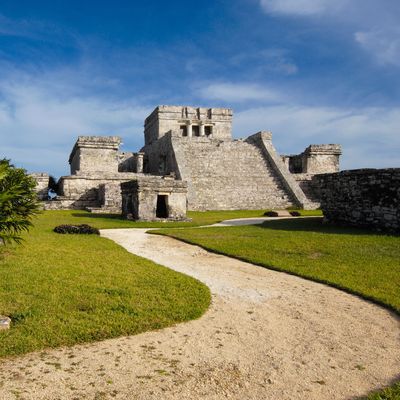 Tulum.
Photo: Jose Antonio Moreno castellano/Corbis
Tulum — frequently known as "the Williamsburg of Mexico" for its constant influx of people with ombre hair who loooove Coachella — was just tragically owned by none other than 21-year-old king of America, Justin Bieber. On vacation with an entire cabal of his less attractive and severely unwashed friends (and new girlfriend Hailey Baldwin), Justin Bieber reportedly made the egregious decision of climbing all over Tulum's ancient Mayan fortress and then attempting to drop trou for a photo he no doubt planned to caption, "The moon over Tulum is bright AF tonight. Smirk-face emoji."
Everyone knows the number one rule of ancient Mayan ruins and other historical landmarks is: Don't try to take your pants off there. But Bieber desperately wishes us to know that he does not — and will not — follow rules. He is a rebel at heart and he cannot be stopped.
According to local press, a light mooning was not all that Bieber had in store at Tulum's Mayan fortress: When he and his squad of Juggalo wannabes arrived at the entrance, they were reportedly carrying beers and shouted profanities at security guards. Bieber then tossed the beer and entered the site, proceeded to do the trou-drop, and "ignored the signs and decided to climb onto platforms and restricted areas."
International Justin Bieber: the worst kind of Justin Bieber?