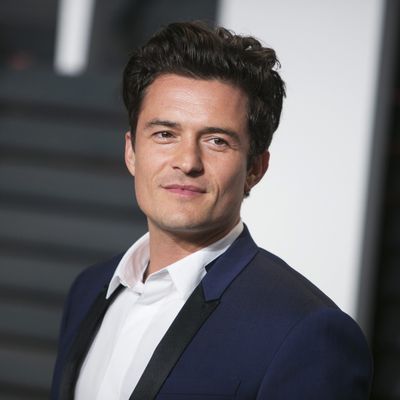 Orlando "Boom," head-butt man.
Photo: Adrian Sanchez-Gonzalez /Getty Images
Look at you, so judgmental. Well la-di-da. What do you do for fun, huh? "Go to dinner with friends." Snooze. "See a movie." Zzzz. "Engage in one of my hobbies." I'm sorry, I can't hear you while I'm asleep! How about you tell me what you do for fun — I want to hear it from your mouth — and then we'll see if what you do for fun is so much better than head-butting a bunch of men on the dance floor of a party in Tulum, Mexico, until your head is bloody.
Orlando Bloom, Florida's perennial bloom and ex-husband of Miranda Kerr, spent his New Year's Eve partying in Tulum. According to a "Page Six" source, Bloom "emerged from the dance floor" of a New Year's Eve party "with a bloody forehead due to overzealous head-butting."
Pretty clear open-and-shut description of a dance par — huh? Seems like just a dude having a good time in Tulu — what? You want to hear more about why there was so much head-butting among men at this party? Uh, seems like a waste of time, but — if you must. From the source:
"There was just a lot of head-butting at this party among men, Orlando especially."
Okaaaay? [Said in a "dumb" voice to imply your ignorance.] Dooo yoou get it nowwww? About Orlando Buh-looooooom?
Orlando Bloom had fun. So what!