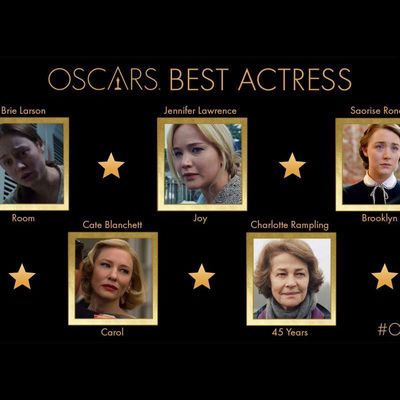 Let's play a game.
This morning, the esteemed Academy has announced the 2016 Oscar nominees. Here's who is included in the Best Actress category: Saoirse Ronan (Brooklyn), Brie Larson (Room), Jennifer Lawrence (Joy), Cate Blanchett (Carol), and Charlotte Rampling (45 Years). While all of these actresses are very different people who portrayed very different characters, they all have one thing in common. Can you guess what it is?
Are they all from Idaho? No. Is the humble tangerine their favorite fruit? Nope! Do they all think "Toxic" is the best Britney Spears song? If they had any damn taste, they would, but that's not it either.
The answer: As a Twitter user correctly pointed out, they all "look like the same woman at different stages of her life."
And this is not just a commentary on the lack of diversity (though, yeah, now that I mention it, it's sort of a theme this year). There's something about the bone structure, the hair color, the skin tone, the wistfully sad yet steady gaze — they all literally look like a slight variation on the same human.
It sucks to be sort of indistinguishable, but hey, there are worse things than growing up to look like Charlotte Rampling.