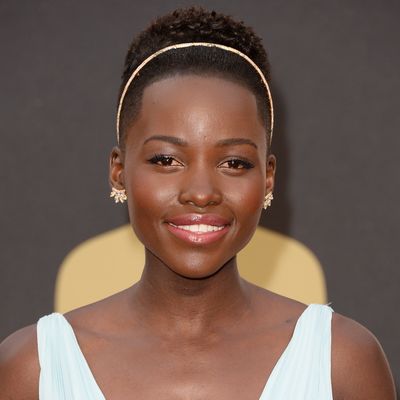 Photo: Jason Merritt/Getty Images
The stunning lack of diversity among the 2016 Oscar nominees has pissed off a whole host of respected stars: Spike Lee, Idris Elba, George Clooney, David Oyelowo, and Academy president Cheryl Boone Isaacs have all released statements expressing anger at the total shut-out of any nominees of color in any of the acting categories.
Now our beloved, perfect angel Lupita Nyong'o also expressed her discontent (via Instagram) last night:
I am disappointed by the lack of inclusion in this year's Academy Awards nominations. It has me thinking about unconscious prejudice and what merits prestige in our culture. The Awards should not dictate the terms of art in our modern society, but rather be a diverse reflection of the best of what our art has to offer today. I stand with my peers who are calling for change in expanding the stories that are told and recognition of the people who tell them.
Nyong'o, as you'll recall, won Best Supporting Actress in 2014 for 12 Years a Slave. Though it'd be so nice to be able to say this year's super-white Oscars are a far cry from 2014, when Nyong'o won (or from 2015, when Selma was nominated for Best Picture and won Best Original Song), her win was actually a Halley's Comet sort of thing: Since the Oscars began in 1929, only 6.7 percent of nominations have gone to people of color, Time reports.  So when Nyong'o takes the stage and makes an emotional speech about the importance of representation, as she did the year she won, and two years later, this happens — she's not angry at you, Academy, she's just disappointed.
But you should feel really, really bad, and spend some time thinking about what you've done.