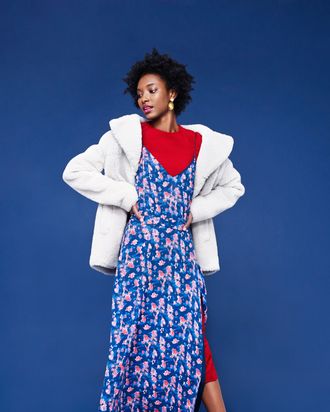 Valentine's Day is in a few weeks and maybe you have some big plans. Whether it's a special date or a super-fun night out with friends, you want to look good without freezing. Why not try an unusual styling trick? Begin with a long-sleeved midi dress that's cut close to the body and then layer on a vibrant slip dress that features a slit that reveals flashes of red as you walk. It's a fresh way to make a seasonally inappropriate dress work for the middle of February.
For extra warmth, throw on a cozy white coat. This A.L.C. version is special-order-only but you can get the same look for a fraction of the cost at Modcloth. To finish it off, a stacked sandal feels evening-appropriate — but if you're not heading to your destination via car, a metallic pump works just as well.
A.L.C. shearling coat, $2,295 by special order at Shop Super Street, for similar try The Sound and the Fury coat, $89.99 at Modcloth; Tanya Taylor dress, $695 at Forward by Elyse Walker or for similar try $89 at Fashion Bunker; Zara red dress, for similar try Leith long-sleeve midi dress, $34.80 at Nordstrom; Stuart Weitzman Mostly sandal, $425 at Stuart Weitzman, for similar try ASOS silver sandals, $69 at ASOS; Lizzie Fortunato Voyage earrings, $185 at Saks Fifth Avenue.

Photographer: Nadya Wasylko; styling by Diana Tsui; model: Shamone Edwards at Muse Management; makeup by Kajsa Svanberg; hair by Jerome Cultrera; photo editor: Emily Shornick; photo assistants: Scott Simpson and Pablo Espinoza.