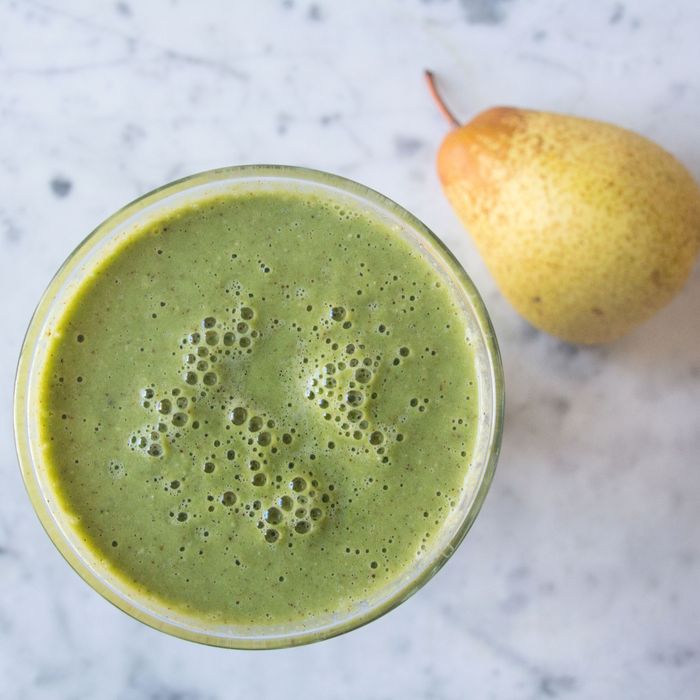 The Cut's guide to self-improvement without spending a million dollars.

You're not a wellness expert these days if you're not constantly Instagramming photos of smoothies, in both glass and bowl form. Want a career giving health advice, a book deal, partnership opportunities, even corporate sponsors? Better break out that Vitamix.
From the sea of smoothies out there, we've tracked down the most appealing recipes by some of the biggest social media players, from cookbook authors to yogis. Each features simple ingredients — no cabinets full of pricey superfoods needed — and the preparation is idiotproof: Just blend.
Today's recipe comes from Deliciously Ella, a food blogger and cookbook author who turned to a plant-based diet after being diagnosed with postural tachycardia syndrome (PoTS), a rare autoimmune disease. On Instagram she shares her life's passions, cooking and yoga, with more than 670,000 followers.
Pear-and-Vanilla Smoothie
Serves one.
You will need:
1 pear
2/3 mug almond milk (200 milliliters)
A big handful of spinach
A handful of oats
1 tablespoon almond butter
1/2 teaspoon vanilla powder
To make:
Slice the pear into pieces, discarding the core. Place all ingredients in a blender and blend until smooth and creamy. You may need to use the blender's highest speed to fully blend the oats.