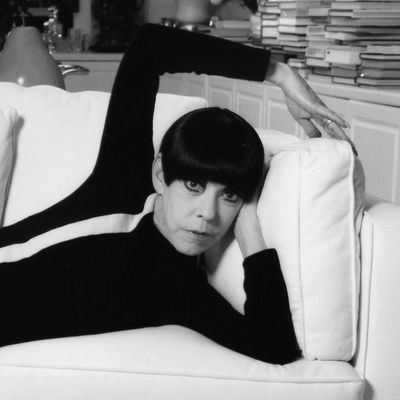 Peggy Moffitt.
Photo: Courtesy of Peggy Moffitt
Peggy Moffitt is contorted into a yogic position in her home in Beverly Hills, from which she can see most of Los Angeles — though she complains of a pesky branch that keeps blocking her view of the ocean. "It's a good thing I'm wearing pants!" she jokes of her pretzel stance.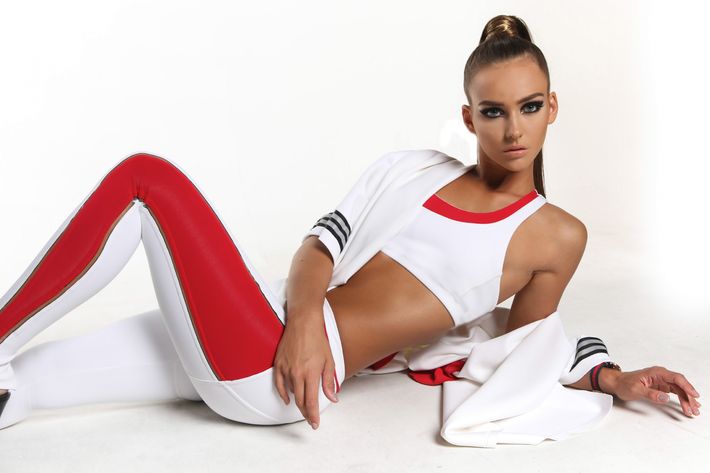 This is Moffitt's first big foray into fashion — she works with a designer, Evelina Galli Poghosyan, on the line. But she's long been interested in design, and she honed her skills over decades of modeling. "I was a muse — and, I hope, amusing — to both those men, who inspired me equally," she says, referring to Gernreich and Claxton, her late husband. "I was the conduit between the two of them. They both truly respected my criticism. I would say, 'Rudi, come stand behind Bill. You're not seeing me the way the camera does.'"

It was a fruitful collaboration, unlike the ones she had with some other auteurs, like Michelangelo Antonioni, who directed her in Blow-Up: "He was hell-bent on being a jerk, and he succeeded," she recalls. Moffitt has also inspired the famously reclusive Rei Kawakubo, who did a collaboration with her in 2003, featuring pieces like a T-shirt with the model's face, all elaborate eye makeup and Vidal Sassoon blunt cut, front and center. Of that experience, she says, "I went to Japan, I got to see Japan. It was fine." Later, she asks, "Is Rei still working?"

Moffitt also had a complicated relationship with Diana Vreeland, who, she says, "was really interested in promoting Diana Vreeland," But the editor was one of the first to embrace the controversial topless bathing suit, or, as it was later dubbed, the monokini. She "insisted on seeing it [in person] and I finally said, 'Oh, all right.' The whole floor was full of other people working under her, and I said, 'I'm not going to put it on in front of all the minions and walk around.'" She decided to cover up in a kimono, which she doffed for Vreeland: "I showed Mrs. Vreeland the front of the suit, the side of the suit, the back of the suit, and Mrs. Vreeland looked at me and said, 'Maaaarvelous!'"

Moffitt answered our Taste Test to gauge some of her fashion and pop-culture preferences.
What do you think about fashion today?
I don't really think there is any fashion now. I think there's style. Pick up a fashion magazine. There are four pages of editorial and the rest is ads, and those ads are about cosmetics, hair, and nail polish, lipstick; they're very rarely about clothes. There are maybe 12 pages of editorial photographs of very uninteresting clothes.

So what do you think the difference is between fashion and style?
Style is personal.

Do you still enjoy modeling?
In the last decade I've worked a couple of times with Tim Walker [for LOVE magazine]. I enjoyed working with him. I love the one where I'm spoofing what I saw all my life, which is the photographer and all the gyration he's doing [in a shot where she turns the camera on him]. I got to make fun of all the photographers I've worked with!
Who inspires your designs?
My eye, when I go out, might be attracted to someone and how they are wearing something. It's not really what they're wearing, it's the way they wear it that moves me or inspires me. I think we're in a period right now where people are more interesting than the clothes they wear.

What was the best lesson you learned from Diana Vreeland?
Stick to your guns.
Is there anywhere you wouldn't wear athleisure?
If I were still invited to the Academy Awards, I wouldn't wear it there. Well, maybe, because it's me, I would!