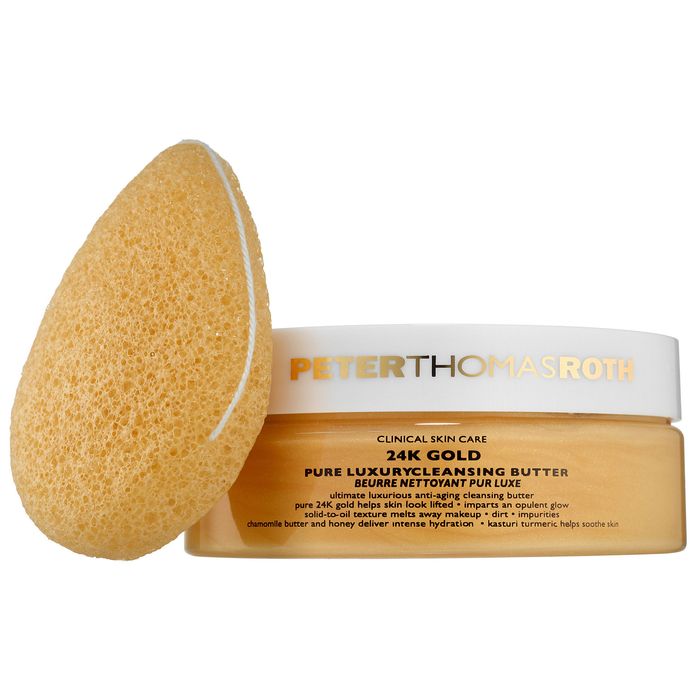 Here's an exchange I had not too long ago with a friend as I was preparing to go to sleep:
"I'll call you right back, I need to rinse off my cleansing balm."
"Your cleansing bomb?"
"Balm! B-A-L-M!"
"What the hell is that?"
I'll tell you what the hell a cleansing balm is. It's a solid cleanser made mostly of oil that coddles parched skin and removes makeup like child's play. In a similar fashion to oil cleansers, you apply it to dry skin and then quickly rinse off.
In the past few weeks, I've been using Peter Thomas Roth's cleansing balm, which comes surrounded by a lot pomp and circumstance, mostly because of the 24-karat gold. The brand says that the gold aids in soothing skin, but it contains so little of the precious metal (it's one of the last ingredients to be listed, just before the coloring pigments) that you can't expect any sort of measurable outcome.
There are, however, a few benefits to note. Unlike the most famous cleansing balm, Eve Lom, Peter Thomas Roth's is free of mineral oil (a controversial ingredient, as some believe that it's harmful to one's health). In its place is an array of almond and vegetable oils, vitamin E, and honey. A creamy solid of sorts (think more peanut butter and less Crisco), the balm melts into an oil when rubbed over my face at night. Makeup dissolves in a matter of moments, and when I rinse, my skin always feels soft and never dry.
A neat thing about the cleansing butter is that it's packaged with a Konjac sponge — a small, porous sponge made from an Asian root vegetable. It's meant to gently exfoliate the skin while you rinse away the cleansing butter, but I find sponges to be cesspools of bacteria, so I've tossed mine.
Bottom line: Don't buy it for the sponge, don't buy it for the gold, but do buy it if you want soft, moisturized skin. This balm really is the bomb. (I couldn't resist.)
Peter Thomas Roth 24K Gold Pure Luxury Cleansing Butter, $55 at Sephora.