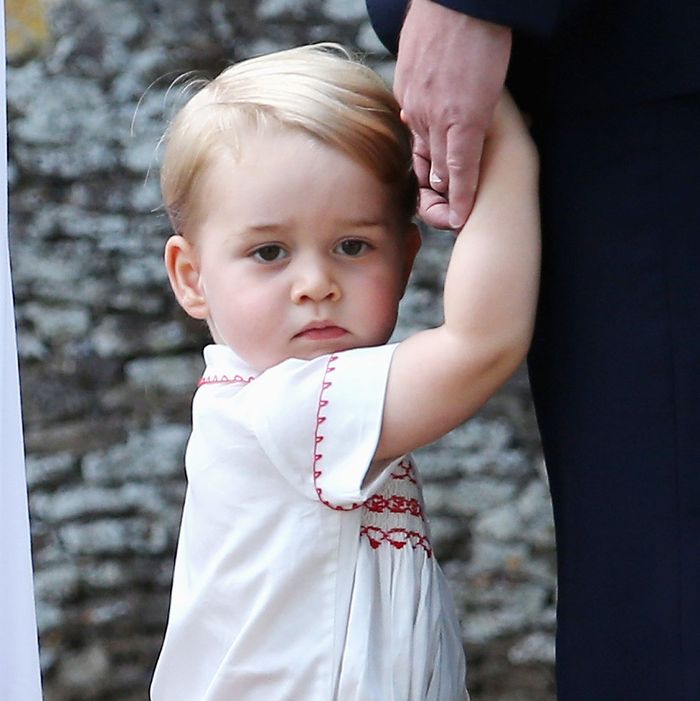 Prince George is gonna wear this expression his whole life.
Photo: Chris Jackson/Getty Images
Prince George, a small child, has got it all: a kingdom (?), mouse butlers (?), toys made of gold (?), talking furniture (?), money bed (?), etc. And now, guess what else he has? Some little old car!
The Daily Express reports that in 1988 Prince Charles gave his sons, William and Harry, a baby version of a vintage Aston Martin V8 Volante, one of only 25 mini versions of the car ever made. Then, after their little prince bodies outgrew the expensive nonsense toy, it was placed in some museum, like anyone gave a shit, not to be rude. And now guess who's gonna get it, via the Express:
George is set to become the new Prince of Wheels after his father took it out of the Sandringham Museum on the Queen's estate in Norfolk in order to have it renovated.
Oh, brother. George is reportedly "obsessed" with vehicles already and "rides about on a £100 toy tractor at his home." I bet.
The baby-version Aston Martin V8 Volante can reach speeds of up to 20 miles per hour, which is no doubt fast enough (and large enough) to quickly transport one's mouse butlers wherever they'd like to go, if one is choosing to be so generous.
Zoom, zoom!