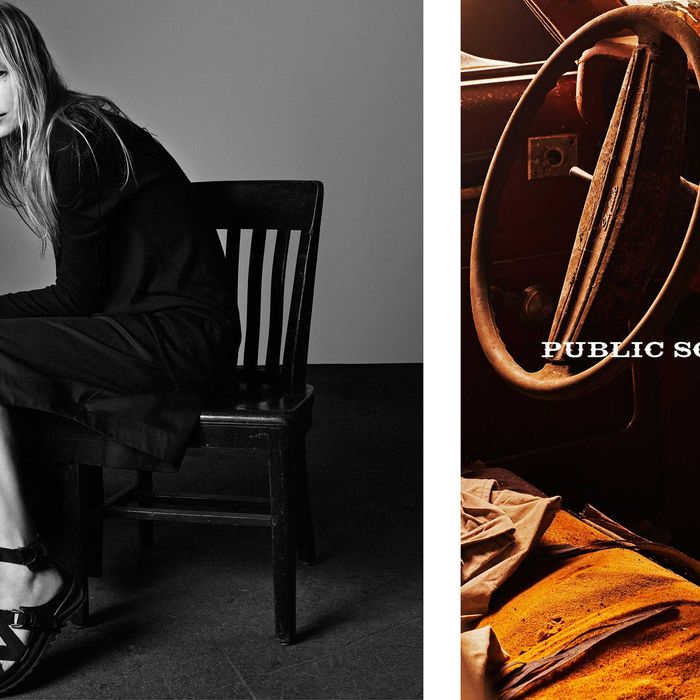 Public School launched its new spring-summer 2016 ad campaign today with a series of intimate black-and-white portraits that pay tribute to the late photographer Peter Hujar. Hujar, who captured New York's after-hours scene in the late 1970s and '80s, was best known for his formal black-and-white portraits of bohemian friends like Susan Sontag and Candy Darling.
The campaign's photographs, by Lachlan Bailey, mirror Hujar's sensibility, with models Kirsten Owen, Ysaunny Brito, Olivia Jansing, and others wearing black jackets and hoodies in what designers Dao-Yi Chow and Maxwell Osborne call a tomboy attitude toward feminine silhouettes. In a burst of caramel color, the portraits are juxtaposed with a rusty vintage car. "The pairing of the broken-down car against the collection was meant to showcase the extremes between the overtly feminine and refined theme of our spring collection, and pair it against the really strong and interesting casting of our friends, models, and artists," Chow and Osborne told the Cut via email.
Click ahead to see more of the latest ad campaigns, including Maartje Verhoef for Dior, Lizzy Jagger for Sonia Rykiel, and Annie Leibovitz's photographs for Moncler.