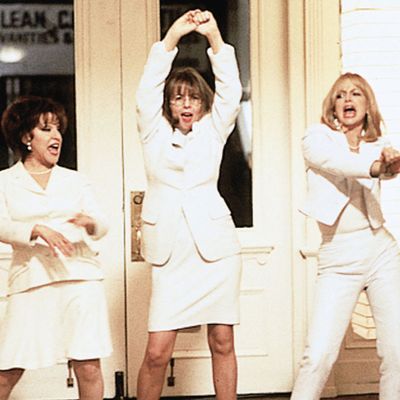 Ladies, start your revengines.
Photo: Paramount Pictures
Even before Khloé Kardashian published a book titled Strong Looks Better Naked, the revenge body had become a core part of breakup narratives. But Khloé has become the movement's public face, recently launching a television show called Revenge Body With Khloé Kardashian in which the pretend pastry chef will "mentor" brokenhearted souls through body transformations to make their exes jealous. "Looking great is always the best revenge," Khloé said when announcing the show. Sure. Looking great is nice.
But there is a problem with this philosophy that Khloé never seems to mention: Eventually we all grow old and wither, no matter how hard we try to stay fit for eternal revenge. So why expend the energy to achieve a temporary revenge body instead of a more comprehensive revenge legacy that will last long after we're dead? If we're deliberately being petty, shouldn't we at least reap some real-world benefits, too? Looking great may be good revenge, Khloé, but the best revenge is a good business venture, one where piles of money rack up like a throne beneath the once-scorned.
Last week on the Billfold, Paulette Perhach wrote of the necessity of a Fuck Off Fund, a stack of savings all women should keep so that they may leave precarious situations — like an abusive boyfriend or a sexually inappropriate boss — at any time they choose. There is an added benefit to a Fuck Off Fund (or a separate fund, if you're made of money): an investment in a revenge business, or "reventure." The beauty of a reventure is that it may inhabit many forms and take inspiration from any number of heartbreaks. Did your best friend turn out to be a monster? Finance a horror film named after her. Is your ex a scumbag? Find angel investors for that million-dollar idea he told you once when he was high, and then go on the Today show wearing an unwashed shirt of his.
After the Jessica Simpson–Nick Lachey divorce of 2005, it seemed Simpson was headed for irrelevance. Instead, she started a line of edible perfumes (???), then launched her Jessica Simpson apparel line, which has since clocked over a billion dollars in profit. Amber Rose, who was known mostly for being Kanye West's girlfriend during a particularly rough and unpredictable time in his life, flipped everyone's understanding of her by writing a book, launching a Slut Walk, and becoming a folk hero. One could argue that the entire Kardashian brand — from the wee Jenners to the mother superior — was founded on a desire to avenge a public shaming.
Months removed from a broken engagement to Future, Ciara is having one of the best years of her career, and she gets to flaunt Russell Wilson as her trophy boyfriend. Blac Chyna is suddenly dating Rob Kardashian, with a lip kit of her own to shade Kylie Jenner. (Or is Kylie's lip kit a reventure against Blac Chyna? The cables do occasionally get crossed.) It's not always a flawless plan: Tory Burch's ex-husband Chris started a business that was almost an exact replica of Burch's, then was forced to close all of its stores a few years later. But the point remains: Success in the form of money and longevity is the best revenge — especially when your ex feels snubbed because of it. A body can only look so good, but a business can make for a lifetime of well-earned pettiness and shade.
Just make sure you take a page from the stallion-versus-donkey-booty book (true fans of RHOA, you're with me): If you're going to launch a revenge business, make sure you keep the dig subtle. We can't be held accountable for copyright infringement.