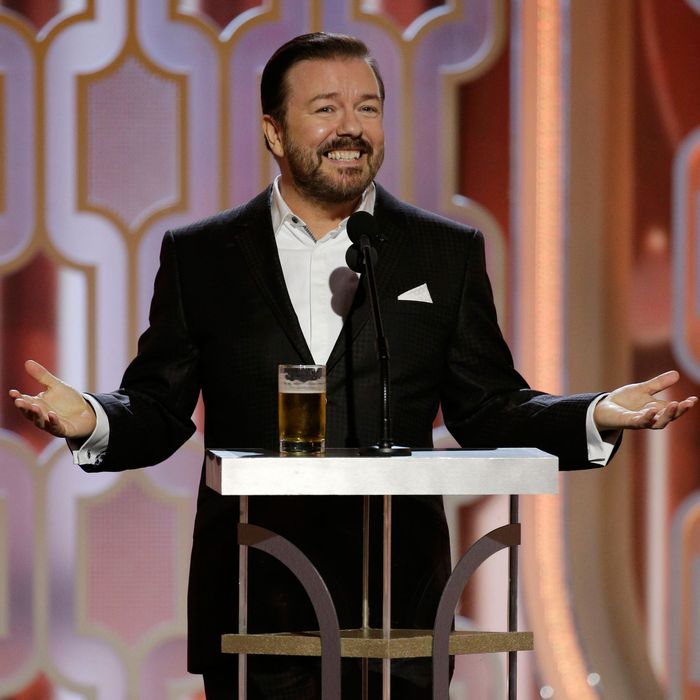 Ricky Gervais makes an expectedly sarcastic opening speech.
Photo: Handout
Nearly a year after Patricia Arquette's infamously rousing speech for equal pay for women at the Oscars, Ricky Gervais brought the issue back to the forefront of awards season with a typically Gervaisian jab at Hollywood royalty.
In his opening monologue for the Golden Globes, Gervais mentioned Jennifer Lawrence's campaign for equal pay. "Jennifer Lawrence got overwhelming support from people everywhere," he said, adding, "How the hell can a 25-year-old live on $52 million a year?"
Gervais also brought up Tina Fey and Amy Poehler, reminding us how much we missed them as hosts this year. "I'm getting paid the same amount as Tina and Amy last year," he said. "I know there were two of them, but it's not my fault if they want to share the money, is it? That's their stupid fault. It's funny because it's true."
Oof. He saved a cringe by adding, "… Joking aside, women should be paid the same amount as men for doing the same job." That's right, Ricky Gervais: This equal-pay business is no joke. But seriously, thanks for the shout-out in the monologue.