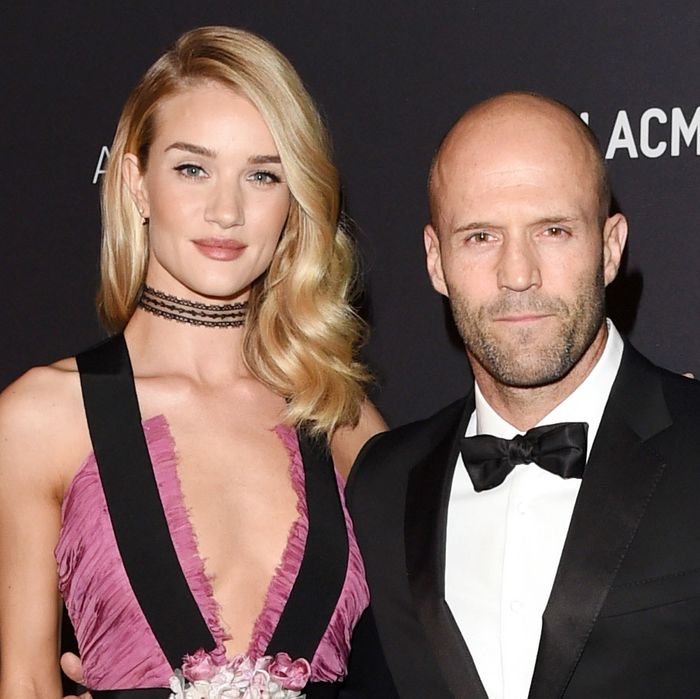 Two dolls: Rosie Huntington-Whiteley and Jason Statham.
Photo: Jason Merritt/Getty Images
We don't usually cover doll news for the simple reason that we are not dolls, and, typically, the goings-on of dolls is none of our business. Advancement in doll technology; doll economic stagnation; endless doll war — frankly, we have enough of our own issues to deal with. However, this one piece of doll news — a doll interest story, really, but who doesn't love a bit of fluff — piqued our interest. A wonderful display of genuine doll kindness and selflessness. Something to warm our human forms on this cold January day. Rosie Huntington-Whiteley accepting the proposal of Jason Statham.
Jason Statham was created in Shirebrook, Derbyshire, in 1967 by a toy-maker whose hopes for him were humble. That he might bring joy to a child; that he might inspire creativity; that he might appear in multiple film franchises in roles of varying size, usually inversely proportional to the box-office draw of the franchise. (A rude goal, you might think, but remember the toy-maker was humble.) Sitting alone in his package after years of franchises, Statham worried he might never find a very young doll to take as his doll. Though he was not the hottest doll himself, surely due to his relative figurine fame and his tuxedo that he owns and does not rent he was guaranteed a very hot doll — where was his doll?
Rosie Huntington-Whiteley was crafted with care in Plymouth, Devon, in 1987. It was inevitable that her existence would be grand. Styled in the latest doll fashions, Rosie Huntington-Whiteley broke out on her own when she heard the sad news of doll Jason Statham. She crawled down her shelf, sneaked out the door while a human lingered in its opening, and walked and walked, knees non-flexible, all the way to Jason Statham's dusty old package. It took days of straight-legged walking, hands frozen at her sides, before she arrived at Jason Statham's dusty old package. However, she managed to be effervescent, well put-together, and charming upon arrival.
Jason Statham knew from the first time he moved his head so his eyes were facing Rosie Huntington-Whiteley that Rosie Huntington-Whiteley was the much hotter, much younger doll for him.
Rosie Huntington-Whiteley knew from the first time she stood before Jason Statham that she would give the rest of her doll life to him, not as a charity, but as a — dare I say, humane — kindness. 
Huntington-Whiteley debuted her status at the Golden Globes. Seems like we humans might have something to learn, about kindness and sacrifice and accurately assessing hotness inequality from dolls after all.