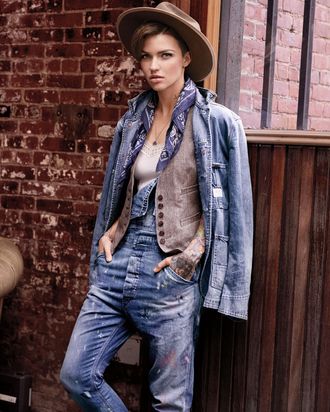 Ruby Rose.
Photo: Courtesy of Ralph Lauren
When Orange Is the New Black star Ruby Rose signed on to be one of the faces of Denim & Supply Ralph Lauren's spring campaign, she says she genuinely didn't realize that her friend Hailey Baldwin was also going to be involved. That is, until she saw a giant poster of her in the brand's New York store. "I was looking up on the wall and I was like, 'Wait, that's Hales!'" she recalls in her lilting Australian accent. "And they were like, 'Yeah, we're shooting with her on Thursday.'" Naturally, Rose quickly convinced the team to shoot the two on the same day. The model and actress spoke to the Cut about working with Baldwin, the appeal of androgynous style, and spending New Year's with a little-known singer-songwriter who goes by the name Taylor Swift.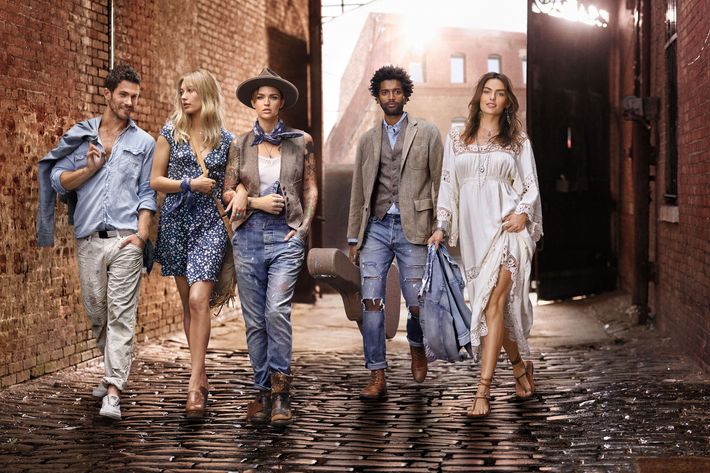 Hailey is a friend of yours. What was it like getting to work with her on this campaign? I think that you mentioned having some kind of spray-paint battle on set?
I feel like some brands just hire people to stand near you and you pretend to be friends. When you get the opportunity to have your actual friends shoot with you, there's so much more energy to the photo. She's such a sweet girl and we were just laughing the whole time. I mean, there were puppies there!

The graffiti thing was funny because that was the last shot. I'm teaching her how to spray and do a little smiley face and then they said, we've got five more minutes, so do whatever and I just turned to her and started spraying and spraying and writing my name on her and she's spraying me. Then I remember her looking down, and she had this thick black [stripe of] spray paint on her arm. She must have been trying to spray me and accidentally was aiming it at herself.

Since the campaign includes Instagram mini-episodes, did it feel more like acting than like modeling?
It didn't really feel like modeling at all, really. It was sort of more of like capturing a day in the life. It was me getting ready, me choosing what I would wear, walking around New York, taking the photos, hanging out with friends, painting. It was never, "You're in a studio, please stand against that wall, lift your head half a millimeter." It was really just us doing what we wanted to do and being really playful and being ourselves. They also got my name embroidered on one of the jackets, which was so dope even though Hailey ended up ruining one with her spray-can abilities.

You've always had a very androgynous style. What do you think about unisex fashion as a  growing fashion phenomenon? Most recently, we've seen Jaden Smith modeling in the Louis Vuitton womenswear campaign — what's it like to see the way you've been dressing being reflected on the runways?
I've been doing it forever, and people would make fun of me. People at school would say, "Why are you dressing like a guy?" or "Why aren't you wearing a dress?" Or when I had a few auditions, people were like, "I think you should wear this," or "I think you should do it differently" or "I think you should grow your hair." Even when I got my first job, people were telling me that I needed to change what was innately me. I think it's more than just making a statement in the fashion world by using Jaden or myself or using transgender models or having women dress like men or vice versa. For me, I'm more in awe of the fact that I know what this means in a larger perspective. [Kids] from middle America, to smaller towns in Australia, to all over the world — if they don't quite understand why they don't quite feel comfortable in a dress, but all their friends wear dresses, or if they're a boy and they want to wear a dress or they want to wear a skirt, they're gonna get picked on. To be able to make this huge impact on what was really a huge transgender and gender-fluidity movement last year is really going to be for the greater good of society because it's going to let people know they're not different in a weird way; they're different in a way that should be celebrated.
 
Jennifer Lawrence just told Glamour that when she works with stylists, she tells them that she wants to dress like a "slutty power lesbian." What do you think about straight women aspiring to or appropriating lesbian style?
I hadn't heard that quote until you just told me now. But what I do know is that Jennifer Lawrence is an amazing actress and an amazing advocate for women and women's empowerment and the wage gap in Hollywood and so many amazing things. I think that is an easy quote to misinterpret or to pick apart. But I know that she has an amazing sense of humor, and for her to say that, I know that would never come from a bad place. She's always spending so much of her time supporting other women and the LGBT community. There's no way that she meant that with any kind of malice. If it was someone else, maybe I would think into it, but because it's her, I just know what she meant.
You're just coming off a New Year's Eve celebration with Taylor Swift. What was that like?
We just danced. We just danced like idiots, and had a fantastic time. We had dance-offs to Drake songs. I couldn't imagine a better New Year's.