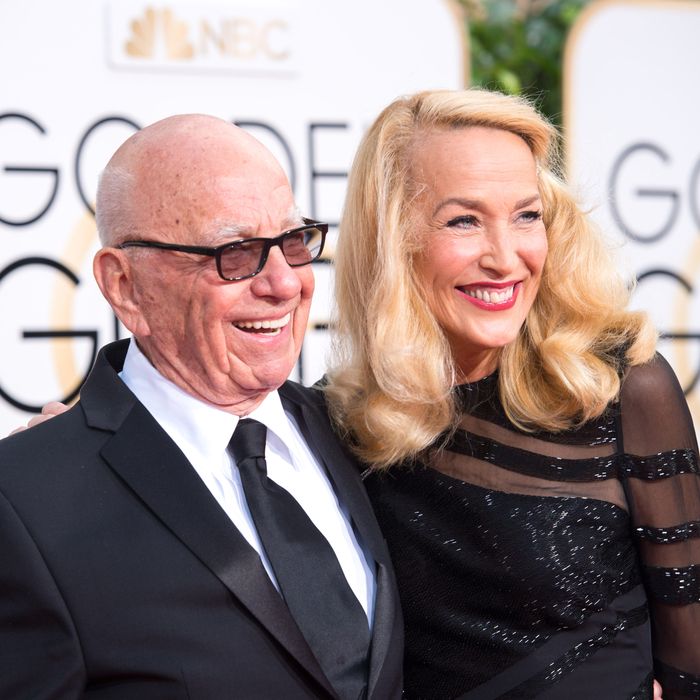 Aww, Rupert Murdoch and Jerry Hall!
Photo: HFPA/AdMedia/Corbis
After a four-month courtship period, 84-year-old News Corp CEO Rupert Murdoch and 59-year-old ex-model Jerry Hall have announced their engagement. Much has been written about the couple's supposedly inherent grossness, but did you know that they're perfect for each other, actually, when you take a closer look? It's true.
It's possible you already know Jerry Hall's famous quotes: "I prefer older men. I look better next to them," and "A healthy love life is not and should not be the preserve of those in their 20s and 30s. It's important at all ages." Appropriate now, yes. But you don't have to look very far to uncover even more evidence of couple's obvious chemistry.
Such evidence can be found simply by scrolling through Rupert Murdoch's Twitter and by scrolling through this Jerry Hall popular-quotes webpage.
Here's a good example. On February 14, 2012, the day of love, appropriately, Rupert Murdoch tweeted, "To hell with politicians! When are we going to find some to tell the truth in any country? Don't hold your breath." A lively fellow, even at his age. According to the Jerry Hall quotes page, Jerry Hall once said, "I have absolutely zero interest in politics," and then also, "I'm a very bad citizen. I've never even voted."
You starting to see it?
Here's another. According to the quotes page, Jerry Hall once said, "I've always gotten along best with artists." On September 6, 2014, Rupert Murdoch tweeted, "Yesterday and today meeting Will.i.am, great artist, now turned tech entrepreneur with mind-blowing ideas. Certainly ambitious."
They both get along with artists.
And another. Hall once reportedly said, of religion, "I've dabbled in several different religions." On January 9, 2015, Rupert Murdoch tweeted, of religion, "Maybe most Moslems peaceful, but until they recognize and destroy their growing jihadist cancer they must be held responsible."
So cute!
On January 9 2015, Rupert Murdoch tweeted, "Big jihadist danger looming everywhere from Philippines to Africa to Europe to US. Political correctness makes for denial and hypocrisy." Jerry Hall once said, "I'm a very lazy, stay-at-home kind of girl."
:)
On January 28, 2013, Rupert Murdoch apologized for a Sunday Times cartoon published on Holocaust Memorial Day depicting Benjamin Netanyahu building a wall with the blood of Palestinians. Murdoch tweeted, "Gerald Scarfe has never reflected the opinions of the Sunday Times. Nevertheless, we owe major apology for grotesque, offensive cartoon." Jerry Hall, for her part, once said: "I have done a lot of theater."
My heart!
And finally, of her taste in music, Jerry Hall once said, "I have very old-fashioned tastes," stating that she loves "good rock'n'roll, blues and jazz, gospel, and a little reggae." She continued, "I love Johnny Cash, Nina Simone, Edith Piaf, and Ella Fitzgerald. Of course I love the Stones. And Bob Dylan." On November 28, 2014, Rupert Murdoch tweeted, "Moses film attacked on Twitter for all white cast. Since when are Egyptians not white? All I know are."
We can't get enough of these two!