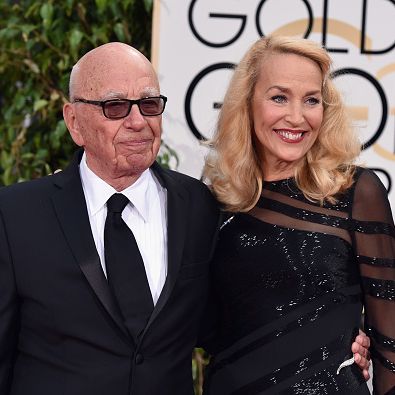 The happy couple attended the Golden Globes.
Photo: John Shearer/Getty Images
Rupert Murdoch and Jerry Hall graced the red carpet at the Golden Globes on Sunday, and less than 24 hours later, announced their engagement. The two have been dating for just four months, according to The Hollywood Reporter.
Hall was reportedly not sporting an engagement ring when she arrived at the Globes with her 84-year-old fiancé, Murdoch. But just today, The Times of London reported there is reason for a little bling to be soon adorning that finger. The ad, featured in the marriages, births, and deaths page, reads:
"Mr. Rupert Murdoch and Miss Jerry Hall. Mr. Rupert Murdoch, father of Prudence, Elisabeth, Lachlan, James, Grace and Chloe Murdoch, and Miss Jerry Hall, mother of Elizabeth, James, Georgia and Gabriel Jagger, are delighted to announce their engagement."
Murdoch is not new to the wedding game; he has been married three times before this, and his last marriage with Wendi Deng Murdoch officially ended in early 2014. Hall tied the knot with none other than the Rolling Stones' Mick Jagger, but when the two divorced in 1999, the marriage was declared invalid, according to The Guardian.
Hall and Murdoch sure released news of their engagement hot off the presses after such a quick romance, but here's to happy days ahead.