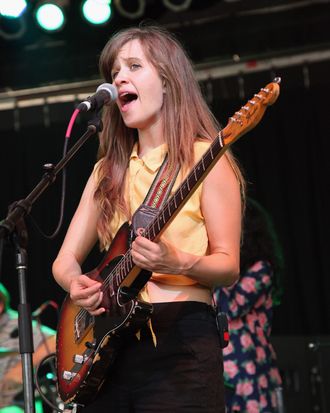 Amber Coffman.
Photo: FilmMagic/Getty Images
Finally, I thought when I saw Amber Coffman's tweets last week. Coffman, a musician known for her work with the Dirty Projectors, had posted about a music publicist who had groped her and harassed other women she knew. And, crucially, she'd named him: Heathcliff Berru. Other women came forward with similar stories. Berru was forced to resign from his PR firm. It was all so satisfying.
I hadn't known about this particular guy and his bad behavior. But Coffman's tweets calling him out — and the immediate results — felt to me like a turning point. For months now, I've watched as industry after industry grapples with a problem that most women are all too aware of: Men who routinely harass and abuse, yet are able to rise through the professional ranks without ever being called to account for their actions.
In August, music journalist Jessica Hopper tweeted, "Gals/other marginalized folks: what was your 1st brush (in music industry, journalism, scene) w/ idea that you didn't 'count'?" She was flooded with replies about everything from casual sexism to repeated rape. In December, FitzGibbon Media, a progressive PR firm in Washington, D.C., shut down after its founder was accused of harassing and assaulting several women he'd worked with. In response, four women created a project, Shine Squad, to allow others to share their stories of harassment in progressive political circles. Later that month, comedian Beth Stelling posted to Instagram about the abuse she suffered at the hands of her ex, a fellow comic. An organization called Women in Comedy responded by collecting stories from women in the industry who have been harassed and abused. Across industries, the stories were depressing and repetitive. They also, in almost every case, declined to name the men who did these things.
I am well aware that a woman who makes accusations against a powerful man is more likely to see her own reputation and career destroyed than his. Your ability to call out abuse is usually directly proportionate to the amount of power you have yourself — meaning that the people who feel safest naming names are often white, straight, and professionally respected. Still, though, I admit that the story-sharing projects left me frustrated. After all, women know the names of these predatory men — we whisper and Gchat them to each other every day. Sometimes our male colleagues know their names, too. And yet the Heathcliff Berrus of the world continue to do what they do.
Which is why Coffman's tweets felt like progress. "I think the outcome has most definitely been different for naming him," she told me in an email. "It went from your typical, ho-hum 'wow that sucks' then forget about it sort of thing, to something that was actually being addressed in a huge way." People couldn't ignore his behavior anymore.
After Coffman's allegations, an anonymous woman created the Industry Ain't Safe, a blog where women in the music world can anonymously submit their experiences of harassment and abuse. But she encouraged women to name names. "I will not edit out details like names or roles if they are shared," she wrote in an introductory post. Of roughly 20 posts submitted to the site so far, about half accuse men in the music industry by name. When several people wrote in to challenge her policy of publishing names, the Tumblr creator replied, "If men are never named and publicly acknowledged for their predatory behavior, who is to stop them?"
I've had the same thought myself. Merely talking among ourselves — whether in person or online — hasn't yielded much progress. Why should men we know to be predatory enjoy the safety of anonymity? As the Mad Men era of professional sexism has faded into something that is often subtle and hard to recognize for those who aren't targeted, the imperative to name offenders feels stronger than ever. I want to know which music-venue bookers assume women are groupies, not sound engineers. I want to know which PR "experts" send creepy late-night texts to their much-younger female colleagues. I want to know which comedians have assaulted their girlfriends. I want to know their names, not just their behavior. I want to see them shunned and punished. This problem is already too quiet. Its solution cannot be whispered. Some reputations deserve to be destroyed.
It's certainly tempting. For the first time ever, women who are not journalists or celebrities have access to a public megaphone. In theory, a woman could slap a man away from her butt and tweet his name so fast that his hand would still be stinging. And many a predatory male celebrity has learned the power of the screenshot. Most of us are quite aware of how online mobs can seize on bad behavior. In his book So You've Been Publicly Shamed, Jon Ronson documents online missteps that quickly became overblown scandals. "You know, we all have bubbling away within us something that we're just terrified would destroy our reputation if it came out," Ronson told the PBS NewsHour. "And yet we are doing exactly that to other people."
The big, glaring problem with naming names, though, is that it assumes the only goal is to hold abusive men accountable — not to protect survivors in the process. Ronson has been criticized for failing to recognize how online shaming tends to punish women more harshly than men. As any woman on the internet knows, just because you have a platform doesn't mean you have support. Coffman waited years to come forward about her experience because, she says, "I do remember feeling afraid of being perceived as too angry or crazy or vindictive back then." Stelling's ex explicitly asked her not to talk about him. "And I abided," she said. "I wrote vague jokes because we both live in L.A. and I didn't want to hurt him, start a war, press charges, be interrogated or harassed by him or his friends and family." Stelling was afraid that she — not he — would be put on the defensive. And for good reason.
"Originally I was all for letting people name names," says Deanna Zandt, one of the founders of Shine Squad. But, she says, "we made the decision to edit out any names in stories that we make public" — partially for legal reasons, but also because survivors told them that their top priority was having a safe space to share their experiences, not calling their abuser to account. "Would we all like to take 'em down? Yeah," says Tracy Van Slyke, another co-founder of Shine Squad. "But the community, the women that are taking the risk to share their story, supporting them through that experience is primary."
The Industry Ain't Safe blog is peppered with concerns from readers that women could use the site to carry out "vendettas" against men. It also contains a cautionary tale about how naming names can backfire and put other women in difficult positions, too. After two different women accused the same man — by name — of abuse, a third woman named Laura June Kirsch wrote in to clarify that she was not one of the victims. Many people had asked her if she was the one making the anonymous allegations. "[He] has never acted inappropriately towards me," Kirsch wrote. "Accordingly, I wanted to assure everyone that I am not associated with this post. I personally would not issue an anonymous post because I believe them to be unfair to the accused."
But what is fair, exactly, when you're talking about abusive behavior that has festered, unchecked, for years? It can be hard, even for activists who know better, to put the needs and desires of survivors ahead of their desire to see abusers called to account for their behavior. "We all know certain abusers in our industries, and not naming names for me has put a lot of shame and guilt on me," Zandt says. "I feel like I've let other women get abused. That's something that I struggle with daily in this project. But ultimately I think it's up to the survivors."
It's also up to those of us who care about this problem to realize that we're playing a long game. A problem that is this deep and widespread practically demands a slow-burn response, not a short-term flame war. As gratifying as it is to see Berru resign or comedians speak up in solidarity with Stelling, naming names is not the only path to progress. And calling out a harasser by name is not the only brave response. For women who have been groped, threatened, and abused by men in their industry, the bravest act is refusing to let these men stop them from doing their jobs.