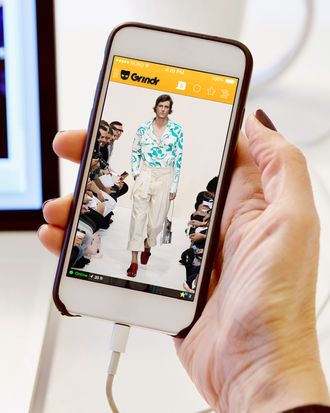 Photo-Illustration: Kathleen Finlay/Corbis
Instagram, Vine, Snapchat … Grindr? The app recently announced it would be represented by blue-chip public relations firm PR Consulting (which also represents Versace and Hood by Air), but no one could have seen its fashion tie-in coming. According to a press release from Grindr, J.W. Anderson (also, synergistically, a PR Consulting client) will livestream his upcoming London Collections: Men show on the app. In a statement, Anderson cited that Grindr "really reflects youth culture right now," adding, "we always look for ways to push boundaries when it comes to gender and our aesthetic. And of course the global reach of Grindr is undeniable," with 7 million users, 1 million of whom are active at any given moment, per company-provided statistics. This marks the first time the designer will be livestreaming his show.
As seemingly random as this coupling might be (even by the standards of Grindr, which has surely seen weirder bedfellows), Grindr has been a fashion mainstay for some time now. Marc Jacobs is an avowed fan, while Interview magazine did a Grindr-themed editorial shoot. Grindr founder Joel Simkhai happens to be a pretty fashionable figure himself — his brother is this year's CFDA/Vogue Fashion Fund winner Jonathan Simkhai. And given that this industry is (newsflash!) heavily composed of gay men and the women who love them, it's not unusual to be at a fashion party where half the room is on Grindr, either as a participant or an onlooker. Talk about a captive audience for Anderson's sci-fi-meets-Regency designs!
Added Grindr's vice-president of marketing Landis Smithers, "It is no secret that J.W. Anderson is a killer mix of transgression and creativity, with an unapologetically fresh approach to gender. That is a perfect match for GRINDR. Plus, Jonathan is a nice guy. And nice counts." What an unexpectedly wholesome message.