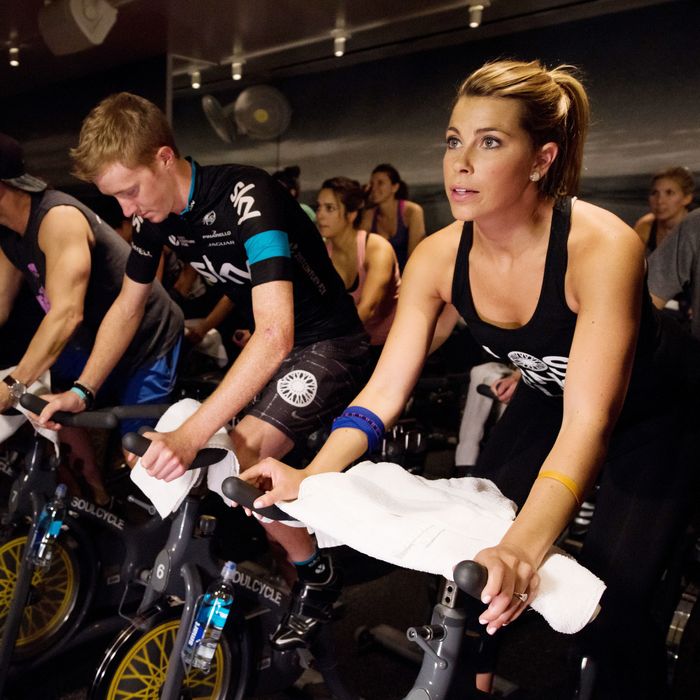 SoulCycle riders doing their thing.
Photo: Jonathan Moore/Getty Images
Target's latest collaboration seems ripe for another server meltdown, but it's unlikely that the big-box store will be fielding the complaints this time around. That burden will fall on the toned shoulders of cultlike cycling chain SoulCycle, which has teamed up with the Bullseye on a four-piece capsule collection and free classes in ten cities across the country.
The no-frills clothing, sold on Target.com and in the pop-up cycling studios, is much less expensive than similar items sold at Soul, but the real draw is the chance to get a free 45-minute-workout-cum-group-therapy session that's normally $34 a pop in New York City and is notably not available on ClassPass.
The tour begins with a private one-day event in New York City on January 14, followed by three-day pop-up studios in Houston, Seattle, Washington, D.C., Atlanta, Denver, Nashville, Chicago, Miami, Los Angeles, and Minneapolis. There will be six 40-person classes offered daily, with registration opening on SoulCycle's site at 3 p.m. Eastern a week beforehand. Bikes are expected to fill quickly, meaning those aspiring to ride for free can experience the same adrenaline-fueled frustration of trying to get into a class with a superstar instructor — godspeed, SoulCycle IT team.