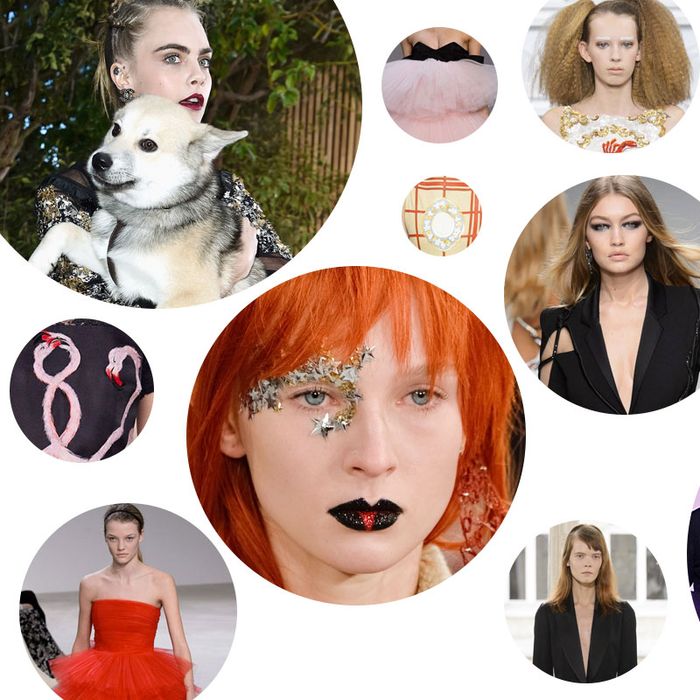 What a week it's been.
Photo: Getty Images, Imaxtree
Didn't get a ticket to the couture shows in Paris, which are winding down as we speak? Never fear. Here's our catch-up guide to the high (museum-worthy gowns) and the low (front-row pets). There was also a Bowie tribute, a lobster on a dress, a bevy of supermodels, and miles of delicate hand embroideries everywhere the eye could see.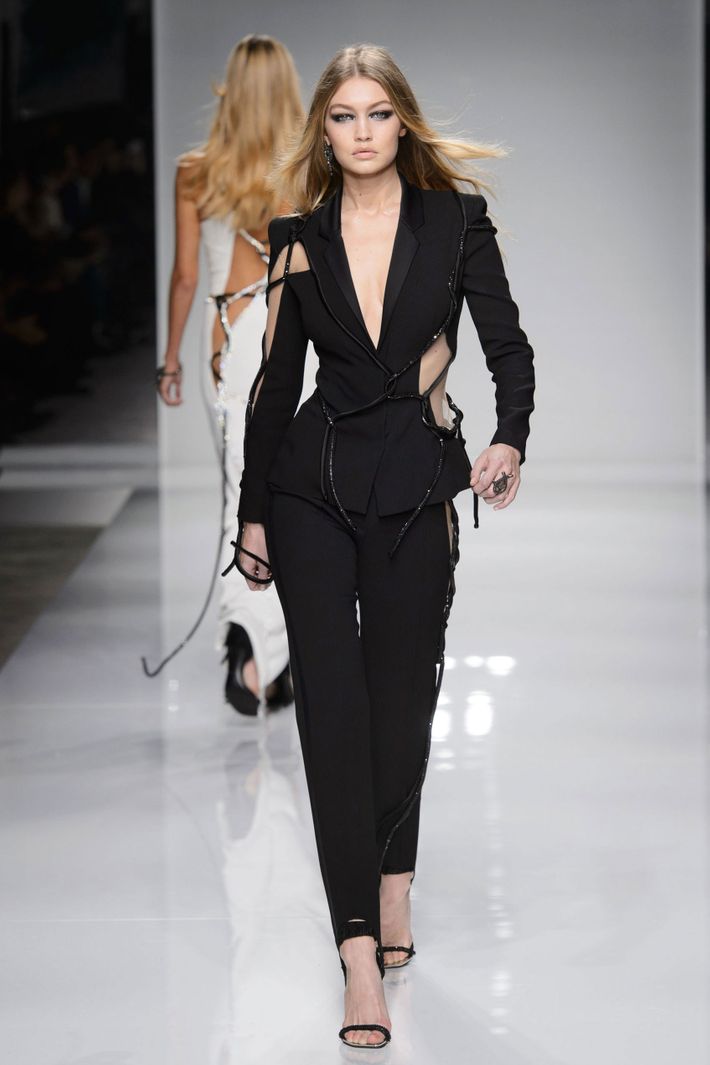 Versace is best summed up as follows: rope motifs and supermodels. The ropes coiled around cutout gowns and on the straps of stilettos, and were ably modeled by a bombshell cast that included Rosie Huntington-Whiteley and Gigi Hadid.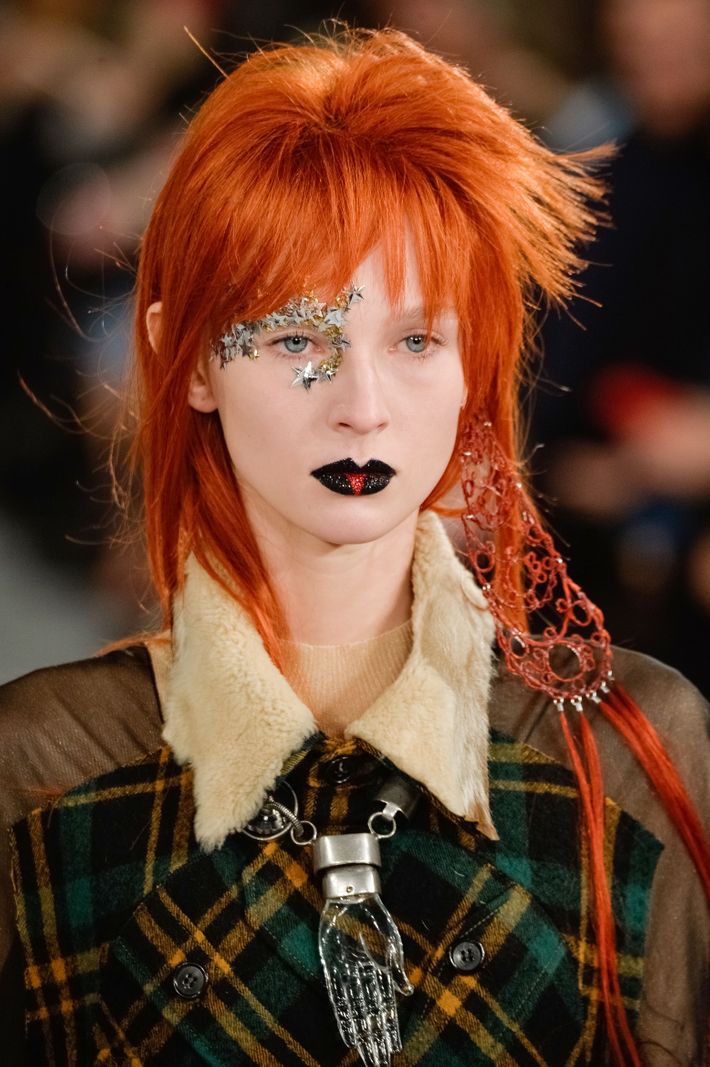 Like Kate Moss and Burberry before him, John Galliano paid a high-fashion tribute to David Bowie at the Maison Margiela couture show with Ziggy Stardust–worthy makeup by Pat McGrath.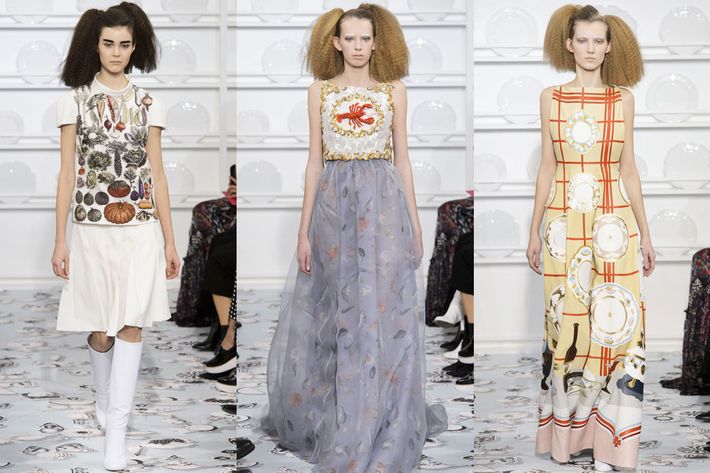 Schiaparelli was enough to make you hungry, dresses patterned with plates, vegetables — even a dress whose bodice looked like a haute lobster bib, a tribute to the house founder's spirit animal.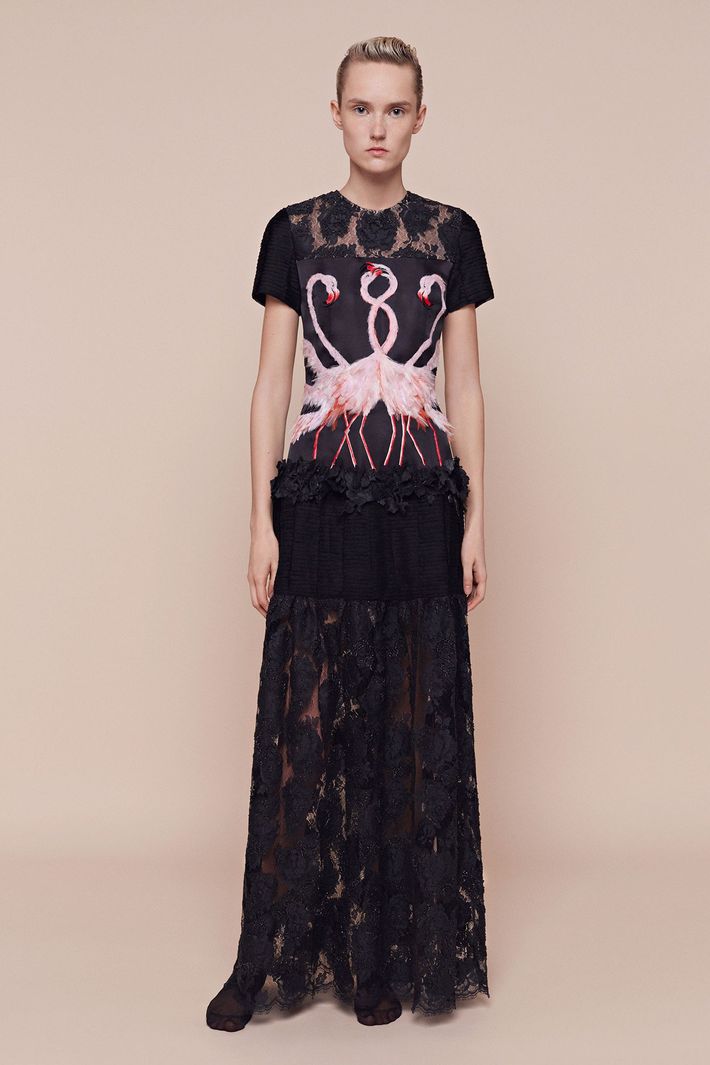 Yacine Aouadi, one of couture's most exciting new entrants, played with transparency and embroidery. And, as a kind of coda to last season's tattoo embroideries, he embellished things with a fun flamingo motif. The designer told us that he and his cohorts are forging a modern new approach to couture: "We don't want to be the next Dior. We want to be the next Alaïa. We don't want to do six shows a year. We don't want to have 400 shops [around] the world. We don't want to dress hundreds of celebrities each season. We don't want to make hundreds of bags and shoes every week. We want something, which is authentic, which is small, which is on a human scale."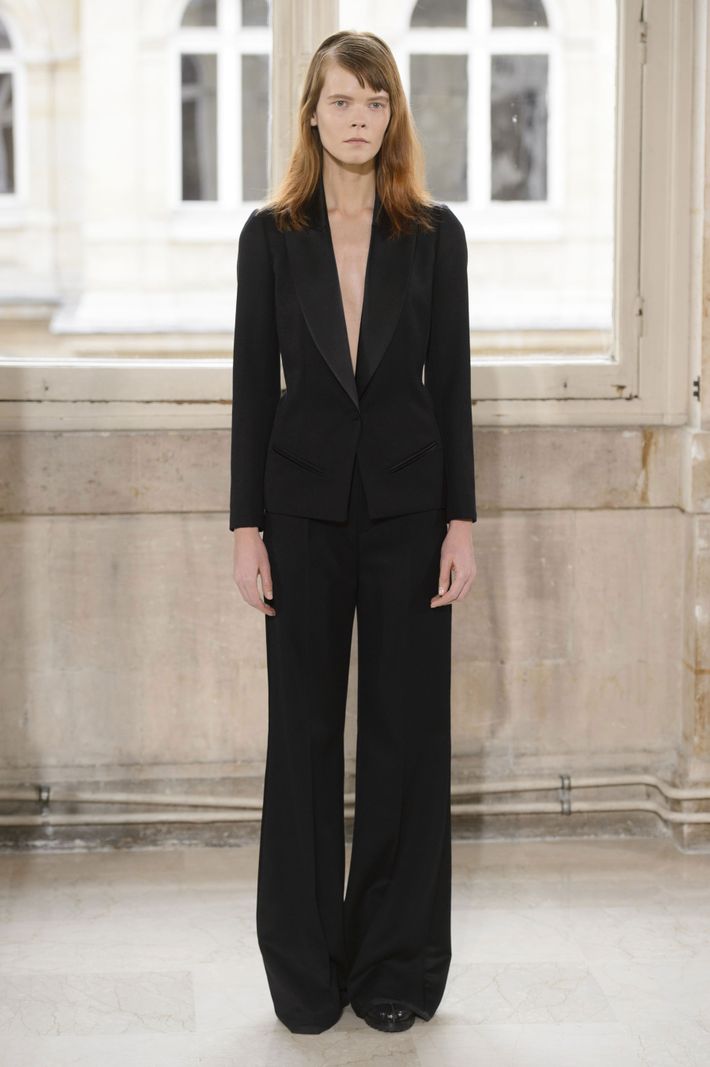 Bouchra Jarrar doesn't traffic in the over-the-top theatricality of many of her couture peers, but her collection is the kind we'd love to wear in daily life. (A hypothetical daily life where price is no object.)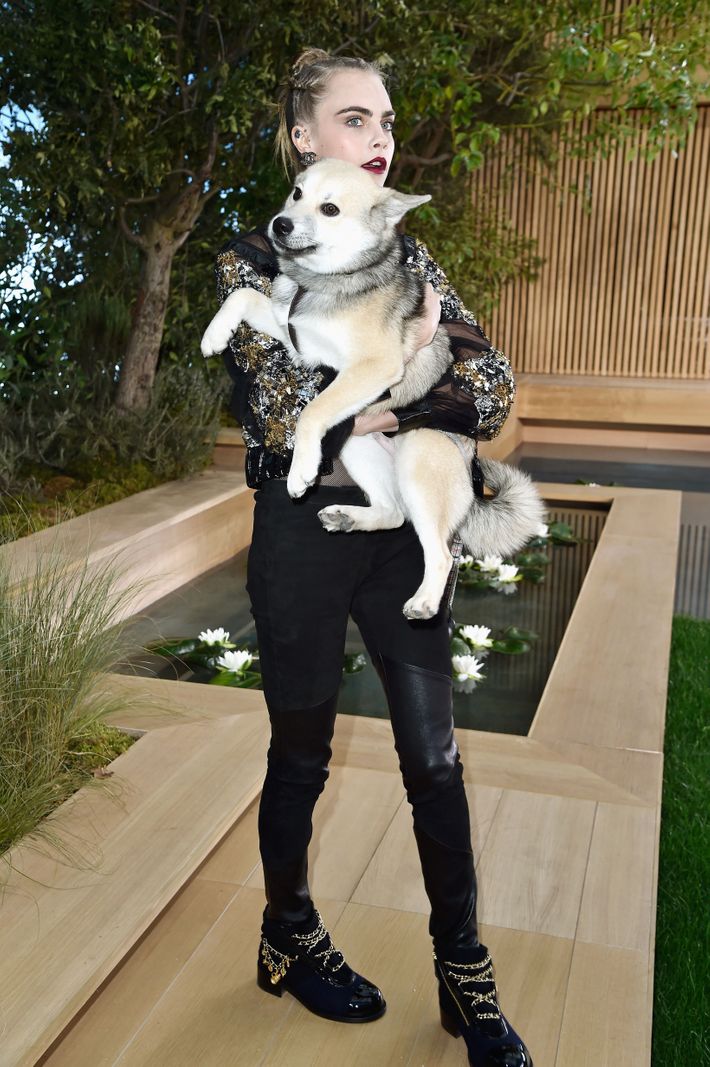 Karl Lagerfeld traded out Chanel's airport set for something a bit more bucolic: a wooden house where models posed, dollhouse-style, and a grassy runway.
Cara Delevingne's dog sat front row, to the envy of humans everywhere. (And, apparently, relieved himself on the runway.) The show also featured croissant-shaped buns and shiny, handy belts for your smartphone. Not to mention our new favorite innovation: a bridal hoodie.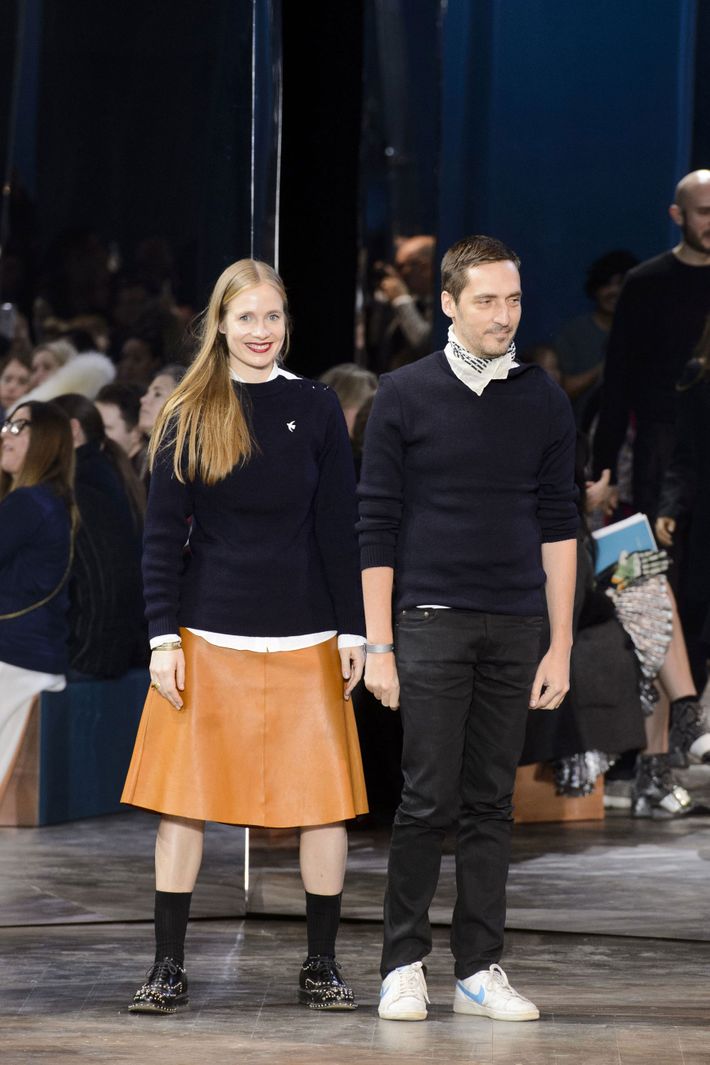 With Raf Simons's departure, the house of Dior is in a bit of an interregnum. Serge Ruffieux and Lucie Meier, who are heading up the design team while the house searches for a creative director, took a well-deserved bow on the runway in their first public appearance.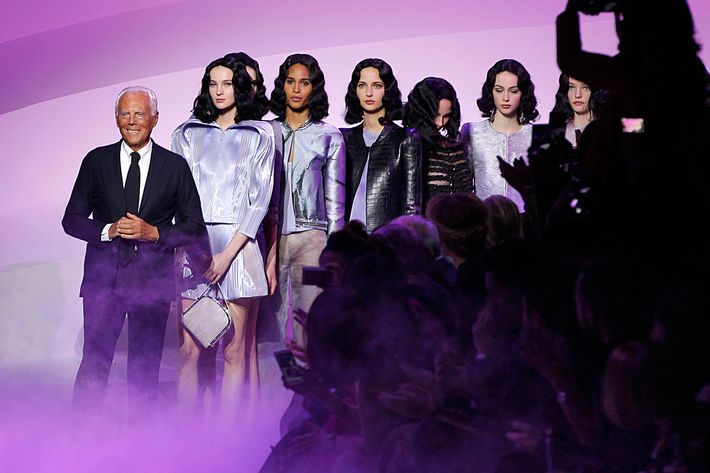 The color purple was Giorgio Armani's inspiration this season for his Armani Privé, with models wearing the whole spectrum of the shade: the perfect impetus for colorphobes to add some into their wardrobes.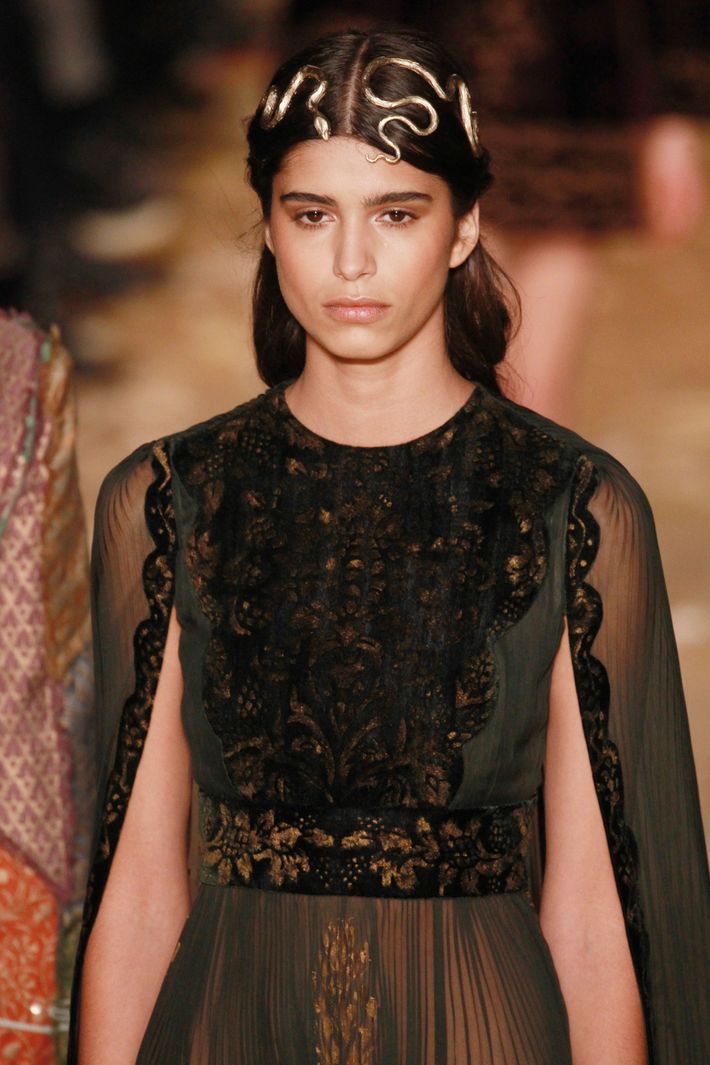 Valentino designers Maria Grazia Chiuri and Pierpaolo Piccioli continue to be inspired by the ancients, with sweeping Grecian gowns and delicate snake headpieces that evoked the prettiest Medusa.
Meanwhile, Jean Paul Gaultier, who turns every single show into a happening, with an impresario's glee, came out and danced with his models on his faux-discotheque set.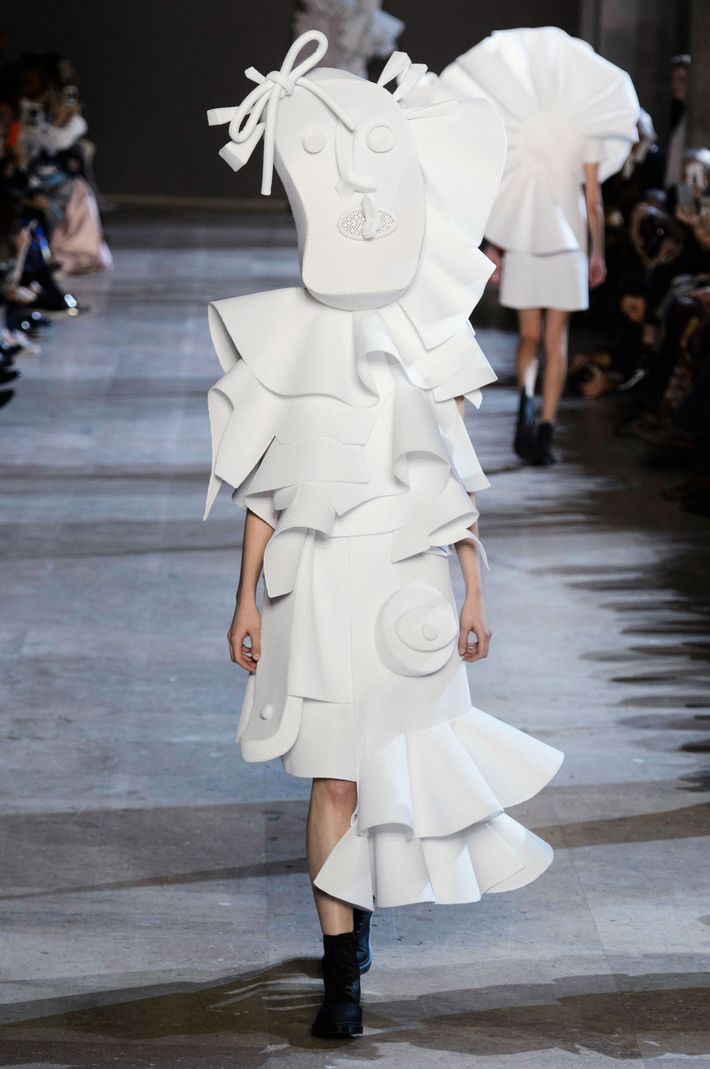 And talk about a collector's piece: Viktor & Rolf showed fanciful, 3-D, sometimes-face-obscuring looks in all white that seemed pulled from a smorgasbord of Surrealist influences.*
Finally, Chinese couturier Guo Pei — a new guest member of the Chambre Syndicale — showed 43 ornate looks, including this sumptuous gold plumed gown.
*This post previously referred to a past season of Viktor & Rolf, and has been corrected.