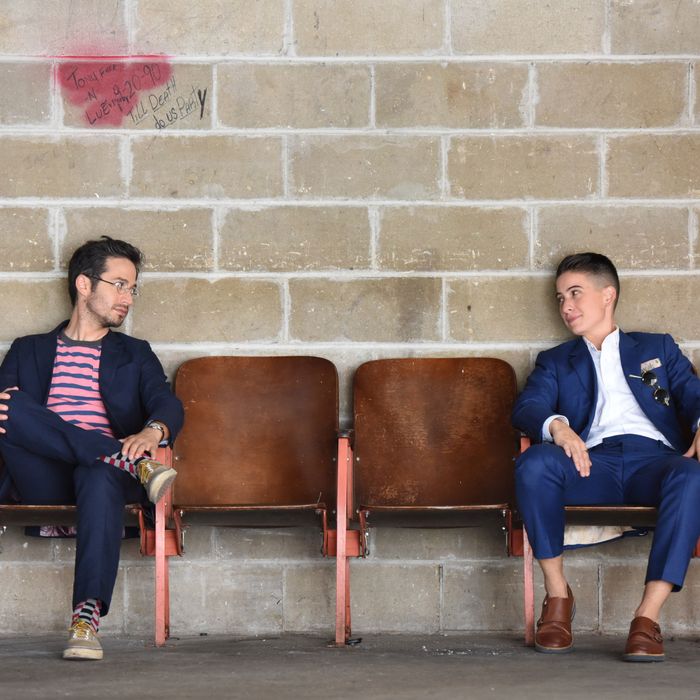 In 2012, Rae Tutera reached out to Daniel Friedman, a straight, cis male former architect who was making custom suits in Brooklyn. Tutera, who identifies as transmasculine, had recently had a custom suit made by a tailor in Manhattan, and the experience was a revelation: So this was what it felt like to be comfortable in clothes! The pair had a beer and shortly after formed a custom suit company, Bindle & Keep, to cater to the LGBTQ community.
Their business is profiled in a new documentary, Suited, produced by Lena Dunham and Jenni Konner and directed by Jason Benjamin, a veteran boom operator on Girls. The film, which premiered Monday night at Sundance, shadows the founders of the company as they meet with clients who want suits for weddings, bar mitzvahs, and job interviews.
Bindle & Keep's suits are sized in Brooklyn and stitched in Thailand. They start at $795,  and Tutera and Friedman estimate they've made 3,000 to date. It's not a huge number yet, but the two feel they can have a huge impact on clients who have gone through life expecting that clothes won't look right on their bodies. A custom suit can be a game-changer. "I was interested in the moment when the client who has struggled with clothing for their entire life puts on a suit that really fits them and they confront their own image in the mirror for the first time," director Jason Benjamin told the Cut. "That was the moment that I was trying to get to."
The Cut spoke with Tutera and Friedman about their start, their process, and the way fashion impacts identity.
How did you begin making suits?
Daniel: I was an architect and I had mysteriously lost my reading ability from what turned out to be lead poisoning, so I had to find a way to adapt and use skills that weren't affected.
How did you find each other?
Rae: I reached out to Daniel in 2012, because I was keeping an eye on local suit companies. I wanted a suit made, but I also had a fantasy about learning how to make suits. I learned he was making suits for Murray Hill, the drag king. I'd seen Murray Hill since I was a teenager, and Murray's suits changed, and they started to fit him, and I was like, What is going on? I found out who was making his suits, and then I wrote Daniel an email asking if he ever did any apprenticeships, and we went out for a beer.
What's the process of having a suit made?
Daniel: The first step is the interview process. That's where the art is. We try to really understand how people feel, and then we start measuring.

The film made that interview seem like an intense process.
Rae: I approached this whole thing after living in clothes most of my life that didn't necessarily make me feel good or worth looking at, and that didn't make me feel like myself. The way I approach clothing in general is definitely from an emotional angle. I don't think I would care about clothes if I didn't experience them that way. It's really about making people feel good. I wouldn't want to make someone a suit who just wanted a fabulous suit — that's not why I like to make clothes for people.
Why is that of particular importance to people in the LGBTQ community?
Rae: Everyone certainly has their own history, but I think LGBTQ people have shared an experience where they don't feel welcomed depending on where they are or what their aesthetic is, or what their presentation is, and they share a common experience of not feeling entitled to go even into a department store, let alone a custom clothing store. It's that lack of entitlement, and that feeling of having to make yourself legible to someone who shouldn't ask you to contextualize yourself.
Daniel: Also the clothes don't fit a lot of people. It's the bane of a lot of people's lives. The noise in someone's head when they say, I need to get a shirt, and I don't know if it is ever going to fit me. It makes it hard to get on with other parts of your life. What we supply is a way to just kind of soften a little bit. Like, Okay, I can get suits for life now.

You said in the film you encourage people to dress braver than they feel. What do you mean by that?
Rae: I am always acting braver than I feel. I wasn't wearing anything outlandish but I had never worn clothes that fit. I had never really put together an outfit, I had never really meditated on what I wanted to wear and it felt like a risk every day, leaving the house to be deliberately communicating to people who I was.
You say in the film that clothing has so much meaning. Can you elaborate?
Rae: I think clothing speaks on behalf of us, and I think clothing can really make you feel invisible. I sort of just draped clothes over my body through my 20s. I put on an oversize shirt, and I don't know if it was just through habit, but I wasn't really connected to my body, and it wasn't something I thought deeply about. Once I had my suit, it made me take a really vulnerable look at how I was treating myself every day. I think that's why clothes are so meaningful, I think you can find joy getting dressed every day, and it should mean something, it shouldn't be something that we overlook or makes us feel bad.
The HBO documentary Suited is currently at the Sundance Film Festival and will debut on HBO in June.

This interview has been edited and condensed.