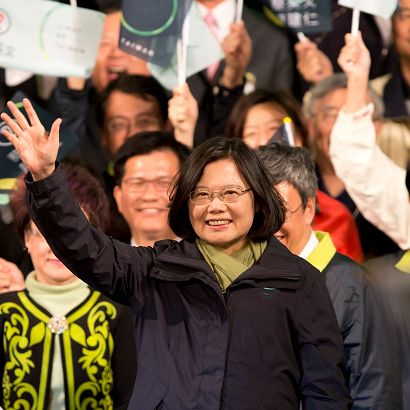 Taiwan elected its first female president, Tsai Ing-wen, Saturday, and it was a pretty significant win, reported the New York Times.
Tsai, of the Democratic Progressive Party, or the DPP,  had approval ratings of 56 percent in the polls. Her opponent, Eric Chu, came in at 31 percent of the votes.
As her country's new leader, Tsai spoke to the Taiwanese people about her hopes to bring together the country's people and their lawmakers.
"Behind me is the presidential office. It's just a few hundred meters away from the people. But those inside the presidential office can't hear the voice of the people."
Tsai is the first female president but also only the second president not to belong to the Kuomintang, or the Nationalist Party, which ruled Taiwan until the early 1980s. And one of Tsai's biggest critiques when she lost the race in 2012 was her inability to maintain a relationship with China as a member of the DPP.
But the new leader has said that as president she will work toward "maintaining the status quo" across the Taiwan Strait. Regardless of Tsai's plans during her first year as president, her win is an important one. After all, it's 2016.