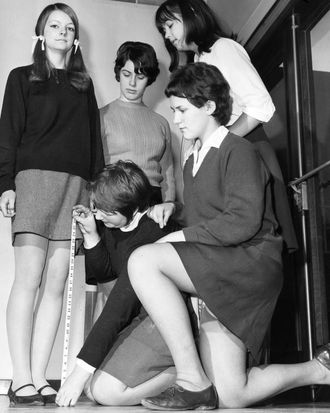 Photo: Manchester Daily Express/Getty Images
Amanda Durbin, a 17-year-old senior at Edmonson County High School in Kentucky, attempted to protest her school's draconian dress code that dictates girls cannot wear leggings as pants and that skirts cannot be more than six inches above the knee. In gentle protest, she and her friends wore black leggings under a sweater dress, the length of which she carefully measured to show her teachers that leggings under a dress was fine and wouldn't result in a pregnancy or a cameo in a Girls Gone Wild video.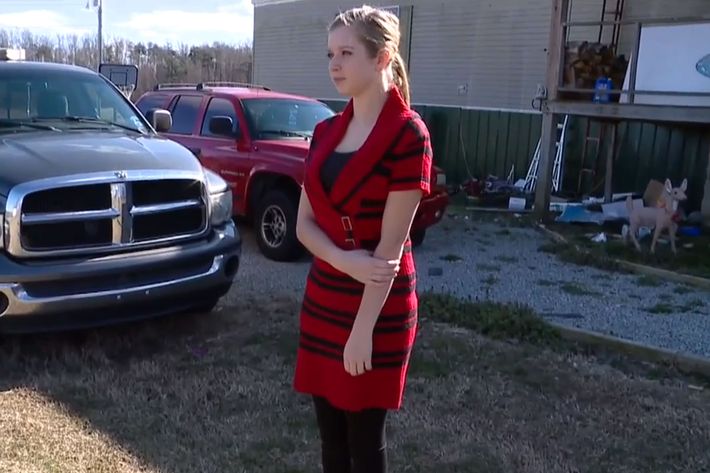 Unfortunately, she tells BuzzFeed, her teachers saw it differently. By third period, she'd been sent to the principal's office, where she was asked to kneel in front of her male principal to have the length of her dress checked, because it seemed too short. Since Durbin understandably felt uncomfortable, she requested her parents be present, which resulted in her missing most of her school day while waiting for their arrival, after which she had to kneel on the ground, and then was submitted to a walk test to see if her dress would ride up.
The outcome? She was sent home, because after the skirt Olympics, unsurprisingly, her dress moved.
"I didn't really appreciate having to get down on my knees, especially while I was in a dress," Durbin told BuzzFeed of the "embarrassing" experience. Which is a very classy and restrained way of saying "my principal is a monster."