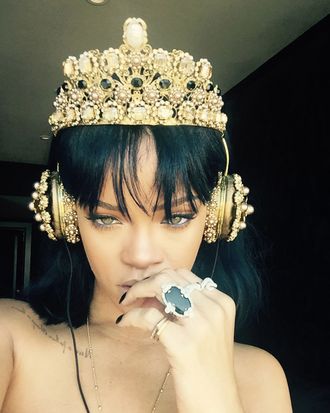 Rihanna.
Photo: rihanna/Twitter
When Rihanna's long-awaited album Anti finally drops, what device will you use to appreciate the sweet, innovative sounds RiRi shall bestow upon us? Some Beats by Dre? Your Apple earbuds? Do you think any pair of headphones available at Best Buy are going to do this album justice?
No, a new Rihanna album requires regal, gilded Dolce & Gabbana tiara headphones like the ones she's modeling while listening to her own music in this Twitter photo. You see, Rihanna gets to listen to Anti because she has the appropriate listening apparatus. She'll just keep waiting to release her album until we get up to speed. No, no. It's fine. She can wait.