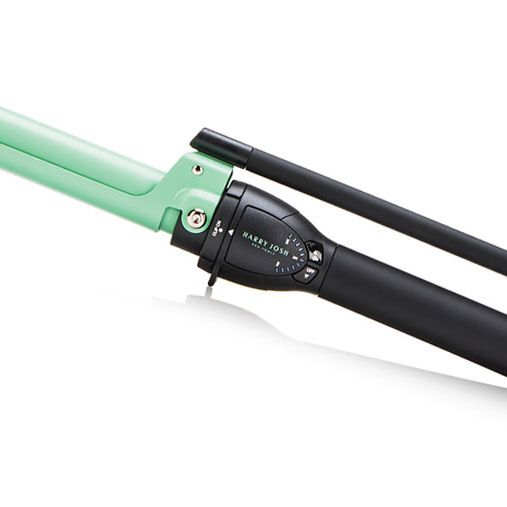 Second to the man himself, celebrity hairstylist Harry Josh's line of mint-green pro tools are the hardest workers in Hollywood. His compact blow-dryer has posed in more celebrity selfies than DJ Khaled, and now his new 2-in-1 Marcel Curling Iron is here to join in the social-media fun. Josh spent several years finessing it before letting it curl the heads of his clients, like Gisele Bündchen and 95 percent of the Victoria's Secret Angels.
With the help of a Korean manufacturer ("Korea makes the best hair tools," he told me), Josh designed the iron to heat up faster, cool down quicker, and work as both a marcel iron (an iron with a clamp, for those who want looser curls with more curl variation) and a regular wand (for traditional beach waves.) I've tried the curler several times now, and like a finely tuned car, the iron went from zero to 400 degrees in 50 seconds.
Unlike some irons, which concentrate heat distribution on the center of the barrel, Josh's uses a longer heating plate so that it evenly heats from tip to end. The ceramic and tourmaline one-inch barrel also emits negative ions, which smooth your hair and make it look glossy. A cushioned handle grip protects against carpal tunnel, a heat glove prevents burns, and a heat-resistant sleeve allows you to quickly stuff it in a suitcase. All these micro-details make this the most luxurious and intuitively usable curling iron on the market.
Harry Josh Pro Tools 2-in-1 Ceramic Marcel Curling Iron One Inch, $175