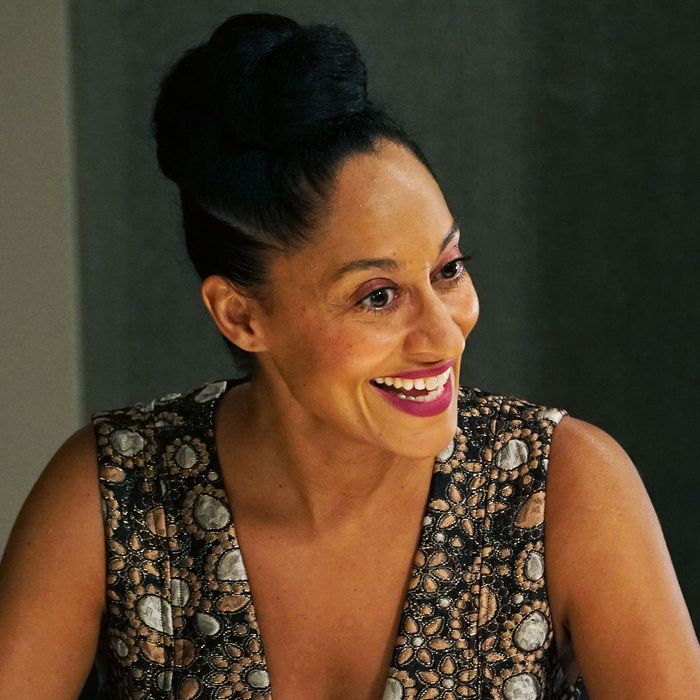 Tracee Ellis Ross on Black-ish.
Photo: Eric McCandless/ABC
Wearing fur coats or Tom Ford heels as a baby, getting your breakfast cooked by Uncle Ashton Kutcher — there are things that are par for the course when you're the child of a celebrity, but Tracee Ellis Ross, daughter of Diana Ross, seems to buck the status quo. Just ask Nadyne Hicks, Ross's makeup artist on Black-ish. Like Ross, Hicks also defies expectations: She published her first novel after attending college at 41. Hicks connected with the Cut to talk about Ross's beauty looks, the best foundation for brown skin, and the driving force behind her book.
For a detailed breakdown of Ross's best looks from the show, click through the slideshow below.
What is it like working with Tracee Ellis Ross on Black-ish?
It's just a pleasure — she's all about empowering young girls and women, and being okay in your own body and hugging your flaws. Last year, I watched her, and how she does her Instagram, and how she shares just enough where people see her humanity. I feel completely blessed because it's an atmosphere of evolution and growth, and people give each other the space to do that.
A good deal of us on that show are black. We have a fully black hair-and-makeup team. I've never seen that, not even on a black show. I've worked on black shows where both the department hair and makeup heads are white. I've done this for over 20 years, and it's a brand-new thing for me — it's so refreshing.
How do you approach Tracee's makeup looks?
For us, the makeup doesn't take more than 30 minutes. Tracee takes care of herself. She gets her rest, she exercises, she eats properly, and she takes care of her skin. That makes it easier, so there's really not much we need to do. And it's a collaborative effort since she is very hands-on. Sometimes I'll put the cheek brush down, and she'll pick it up and start brushing her cheeks with it. We have a beautiful rhythm, like we actually dance on her face. She'll fill in her eyebrows, maybe, and then she'll do her lashes. And then we choose the lip colors, and she'll put her lips and her liner on. She is not afraid of color on her lips. Tracee is comfortable in her own skin, and I love, love, love that about her.
Sometimes she will come into a trailer with a mask. You've seen her Instagram posts! We'll start videotaping it because we think it's so funny. She's not afraid of those real moments. How many other stars do you see in their own skin with masks on their face? She's down to earth, she's real, and she's like, Okay, this is part of the process.
Which products do you use for Tracee's lips and foundation?
Tracee does her own lips. We mix the colors. If it's a bright red, it's usually M.A.C's Ruby Woo with a M.A.C Cherry pencil. We also have this beautiful pink color that I found for her from M.A.C called Flat Out Fabulous, and she'll put a NARS Damned pencil over that. For her foundation, we like to use Bobbi Brown. We use Golden on her, and Honey sometimes for the concealer. Bobbi Brown is great for our [brown] skin. She's figured out our undertones pretty nicely, so I can pretty much go to any palette and mix for us, especially when the colors are golden. Even as you get darker, to the chocolates, she's done a good job of color for us.
I also like Make Up for Ever. Their foundations are really nice. Kevyn Aucoin is good, too. His makeup is heavier, so you have to be careful. You have to thin it out with a sponge and mix it so it's pretty thin, but it gives really good coverage.
Which tools do you use to apply Tracee's foundation?
I use a Beauty Blender. Tracee and I have also been changing it up a little bit. M.A.C has a foundation brush. I use a little brush for her concealer, and then I'll use the foundation brush to blend. And then, finally, we'll go in with the sponge and tap it out smoothly. We use a little bit of Tom Ford on her cheekbones, and then I'll pop her cheeks with color.
How do you make Tracee's makeup last all day?
Sometimes, after lunch, we'll spray Tracee's face with a mist to refresh it. To refresh her lipstick, we'll take it off with a makeup cleanser and a cotton tissue, and then we'll reapply the lipstick again. It's easier to do this way because we want it to look new and refreshed instead of caked-on.
You're a makeup artist, but you're also a novelist. How did your book come about?
In 2005, I was working on Scrubs as a makeup artist, and I was going through a purpose crisis — that's what I'm going to call it. I went through a really horrible spell of depression, and it was interesting because even though it looked like I had everything — working on this hit show, having a great family — I had this void, and all I could think of was suicide. I went to visit my mom in North Carolina for Christmas, and she was like, "Wait a minute, what's going on?" That's when I began therapy, and at the same time, something told me to apply to UCLA.
When UCLA said yes to me, I left Scrubs. I was 41 at the time. After I graduated, I knew that I really wanted to write. The book poured out of me. It took me two or three years, but I'm so proud of that book.
What is the book about?
It's a coming-of-age story about a young girl's intuition and what she knows to be true, but feels she's unable to speak the truth because no one will listen. That book scares people. You feel all of her anxieties, her happiness, her joy. You start to think about when you were little and some of the things you knew because no one would listen to you. I wanted to create a dialogue between children and parents.
What has been the most rewarding lesson you've learned while working on Black-ish?
The stereotype that we as black people cannot come together and create and do an excellent job, I've learned that that's totally false. I never really believed it 100 percent, though. This is showing the exact opposite. We can come together. We can create an amazing product, and we can do it without drama. Even when there are issues, we know how to communicate. We are one big family.
This interview has been edited and condensed.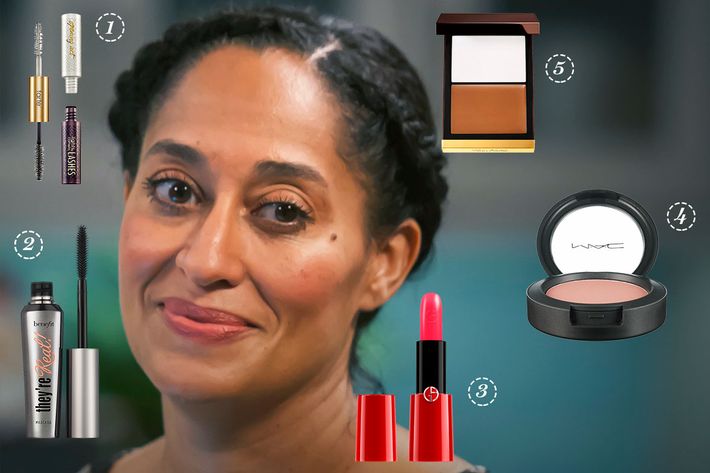 Hicks preps Ross's lashes with (1) Tarte's Lash Primer before swiping on a layer of (2) Benefit's They're Real mascara. For a pink flush of color, Ross dabs her lips with Armani's 500 lipstick. Cheeks are brightened and sculpted with a combination of (4) M.A.C's Fleur Power blush and Tom Ford's Shade and Illuminate in Intensity 2 swept under Ross's cheekbones.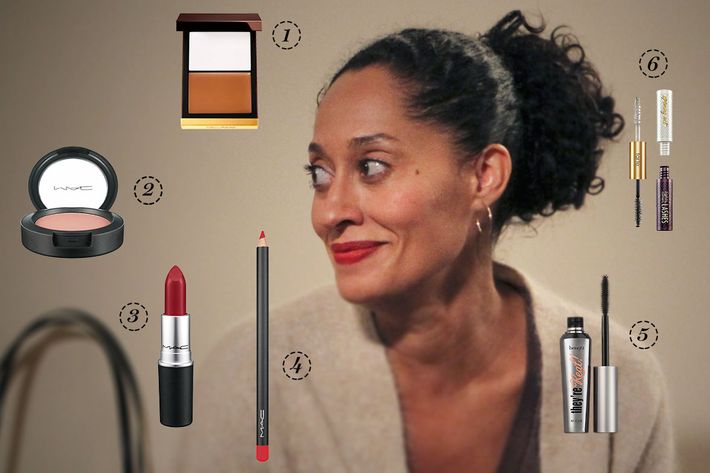 After applying (1) Tom Ford's Shade and Illuminate, (6) Tarte's Opening Act Lash Primer, (5) Benefit's They're Real mascara, and (2) M.A.C's Fleur Power Blush, Hicks hands over the lip products to Ross, who lines and fills her lips with (4) M.A.C's Cherry pencil and (3) M.A.C's Ruby Woo lipstick.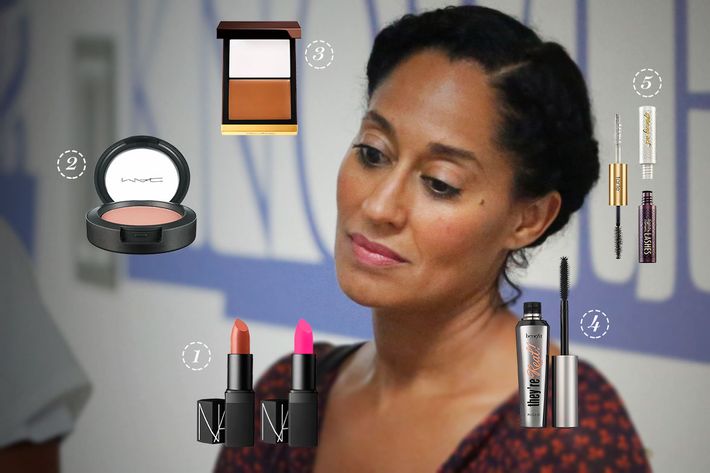 Hicks blended NARS's nude Blonde Venus with the vivid pink, Schiap, to master a soft petal color. (1) NARS Schiap + Blonde Venus lipstick, (2) M.A.C Fleur Power Blush, (3) Tom Ford Shade and Illuminate, Intensity 2, (4) Benefit They're Real Mascara, (5) Tarte Opening Act Lash Primer.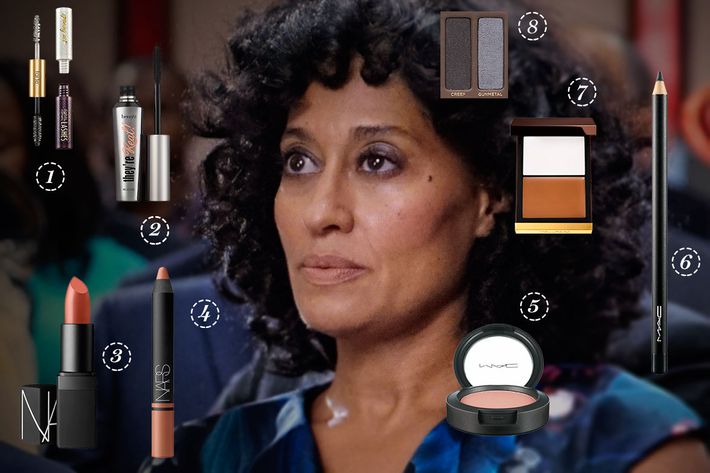 For Ross's brillantly smoky church look, Hicks swept (8) Urban Decay's Creep and Gunmetal eye shadows all over Ross's lids and lined her eyes with (6) M.A.C's Smolder eyeliner.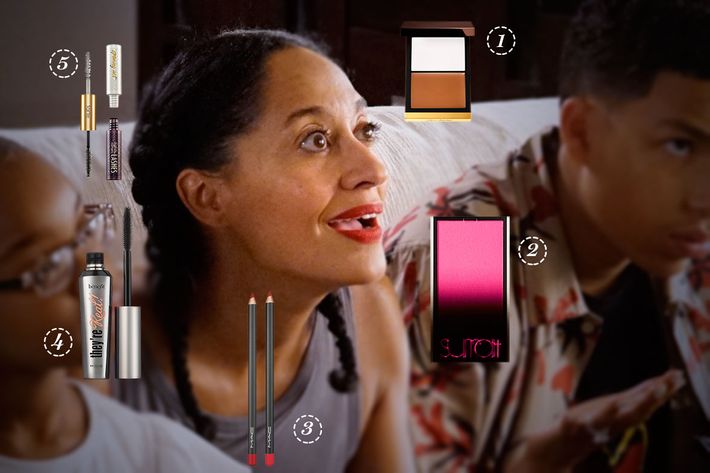 A pop of pink from (2) Surratt's Se Pomponner blush sprung life into Ross's cheeks.