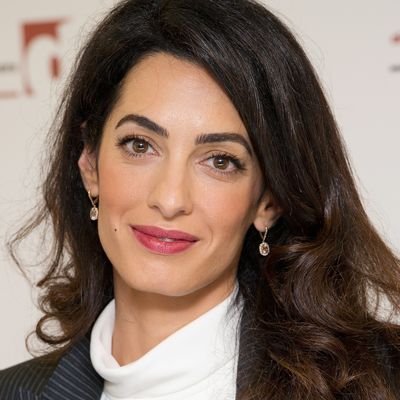 Goddess.
Photo: Eamonn M. McCormack/Getty Images
Goddess Amal Clooney graced NBC News with her first American network-television interview this week, not to discuss what she was wearing (a dress sewn by angels) or how her hair gets so perfect (each morning tiny birds comb it with their delicate beaks), but to bring attention to her client, former Maldives president Mohamed Nasheed, in his quest to be released from prison.
Clooney met with politicians in D.C. this week to try to convince them to impose sanctions on the Maldives until they release Nasheed from jail. When asked in a roundabout way by NBC if her celebrity marriage has affected her or her work in any way, Amal told it like it is. "I don't really see myself in the same way because I'm still doing the same job that I used to before," she said. "If there's more attention paid for whatever reason to that, then I think that's good."
At least now we finally know what the goddess is doing putting up with George.