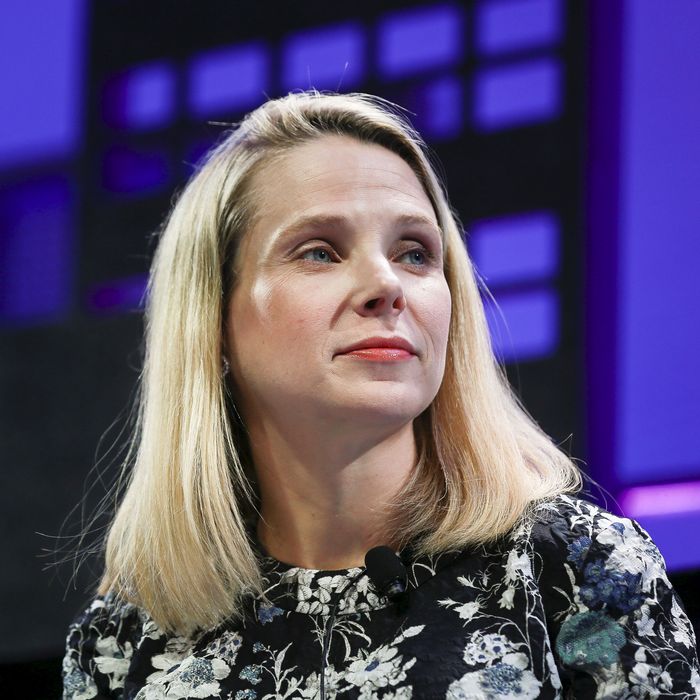 Marissa Mayer (a mom).
Photo: ELIJAH NOUVELAGE/Corbis
In this week's edition of Can Women Really Have It All?, investors and publications alike have come for the head of Yahoo CEO Marissa Mayer. As profitability at Yahoo sinks, and Wizard of Oz–themed photo shoots to the tune of $70,000 are remembered, investors have been actively reaching out to Mayer and upper management at Yahoo to point out that their time is nearing a close. Oh, and did you know Mayer recently had twins? Because she recently had twins.
Here's how Vanity Fair contextualized a letter that activist investing firm Starboard Value sent to Yahoo detailing plans to replace head members if things don't turn around:
The warning comes just a month before Yahoo's proxy season is set to begin, during which investors have the chance to nominate new directors. Since Mayer took over the company in 2012, sales have shrunk and spending has increased. Yahoo's stock tumbled 35 percent last year. Last month, Mayer gave birth to identical twin girls.
It's important to note that many a man has sunk a big company without having had kids first, but don't tell that to Eric Jackson, a hedge-fund investor who, in a Medium post this month, listed five potential replacements for Mayer. Four of them are men.