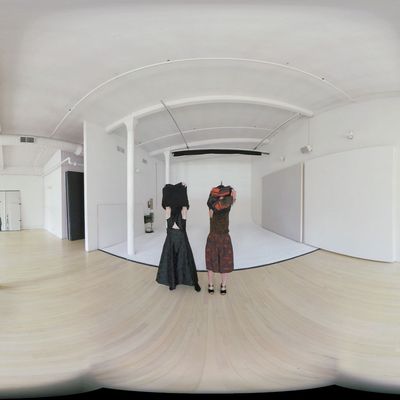 A still from Unstitched.
Photo: Ruvan Wijesooriya
Here, in an unremarkable swath of what you might call the Upper Garment District, is an office that looks much like any other: a mini-fridge topped with a bottle of sriracha, a couple of swivel chairs, office furniture bestowed by a departing tenant. It does not look like, say, a portal to another world. But in fact, the occupant of this office, photographer Ruvan Wijesooriya, is currently sporting a formidable piece of Tron-like headgear that promises to transport you there. As Wijesooriya leans back in his swivel chair, taking in the scene playing out on his headset, he reflects, "There's so few times, as a creative person, that you get to say that you were the first to do something." That "something" is, by his reckoning, the first-ever editorial fashion shoot done in virtual reality.
In 2016, fashion is theoretically more accessible than ever before — well, except for the prices. Fashion shows are no longer hermetic industry events restricted to a group of smartly dressed buyers and editors — they're streaming on iPads in Taipei, and people in Cape Town can see backstage photos from Milan and get an eyeful of the collection, maybe even before the show attendees themselves do. It's become common to talk about how fashion is more experiential than ever before. But the challenge is always to get even closer. Double-tap all you want, but you still won't be at that show, inside that screen.
Wijesooriya has shot for clients like Burberry and Roberto Cavalli, but he was working on a project completely unrelated to fashion — photographing a group of Afghani students for his series "Yearbook Afghanistan" — when he started to think about the limitations of still photography. "I thought how amazing it would be to transport kids to a different classroom in a different country," he said. While that vision hasn't come to fruition yet, he did become interested in virtual reality as a concept.
Remember VR's earlier iteration — all clunky headsets and steampunk goggles? There's a reason the first model, in 1968, earned the nickname Sword of Damocles. That cumbersome quality might explain why it never really took off. But the new generation of virtual-reality technology is hoping to carve out a place in your daily life. Facebook acquired Oculus Rift last year; Google just created a new division devoted to Cardboard, its VR product; and Samsung, HTC, and Microsoft all have versions, with Samsung announcing last month that it would open a virtual-reality studio in New York. And fashion has been gingerly embracing the concept. This past season, you could watch Moscow Fashion Week in virtual reality or rub elbows with the leggy jocks from Tommy Hilfiger's football-themed New York show. Dior made a sleek, branded VR headset called Dior Eyes that will be available in stores in June, and Richard Chai recently announced that he is teaming up with Ridley Scott on a virtual-reality fashion film.
That doesn't mean that the fashion industry is completely onboard with VR yet. Wijesooriya says that when he began pitching the idea to potential collaborators, "no one really knew what I was trying to do." They asked, "What is this project? Is this a video game?" he recalls. As such, the project, which he is calling Unstitched (a reference to "stitching together" multiple cameras to shoot in VR), ended up being a semi-scrappy affair. The entire 23-person crew — including stylist Victoria Bartlett — worked for free, and the team was able to get clothes from labels like Dries Van Noten. The shoot was done in partnership with Virtualize, a VR-specific agency founded by David Mullett.
Now, the photographer is ready to show off the finished product. Wijesooriya parks me in the swivel chair, straps on the (surprisingly lightweight) viewer, pops in a Samsung smartphone, and props a pair of oversize Beats headphones on my head. And we're off. I watch as a blonde and a brunette model strike poses in front of me, and sometimes make appearances to the side or behind me. (The photographer occasionally swivels me to make sure I'm looking in the right direction.) I end up watching a total of three times, picking up more details each time — the photographer off to the side, or a model standing behind me.
So what was it like to virtually travel into the shoot? Well, it was hard to express my appreciation or interest — I gave a thumbs-up at one point, not wanting to disappoint my audience. I felt mild anxiety about not being on my phone, and missing work emails and Slacks — considering how much fashion people are tied to their phones, this might be the biggest obstacle for future virtual-reality fashion projects to overcome. And to be honest, I never really felt like I was "there," in the way VR promises to transport people.

There was a brain-body disconnect of sorts. My brain told me, "You are looking at a screen, albeit an all-encompassing one." But my body and reflexes weren't quite as savvy. When one model playfully threw something at the screen, I instinctively winced, just like one of the 19th-century audience members running from the train in the Lumière Brothers' short film.