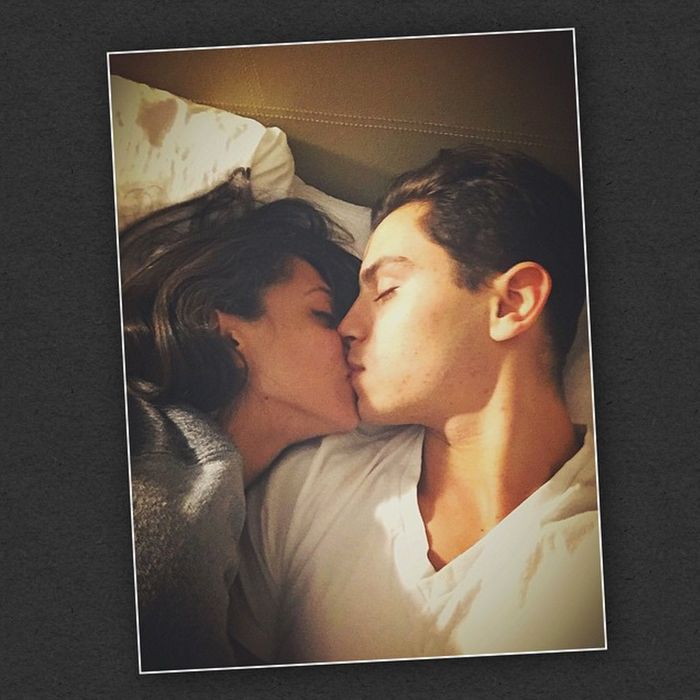 The happy couple.
Photo: jaketaustin/Instagram
The Rock. Harry Styles. Channing Tatum. Will commenting on their Instagram accounts ever help you find true love? We've all been there, dying of thirst in a sandy desert of lackluster options, but the end game of proudly yelling at Oscar Isaac that you'd love to have his children is mostly self-satisfaction. Oscar Isaac isn't actually going to have your children. Right? Right?
Twenty-two-year-old Danielle Caesar is now giving fangirls a modicum of hope that "marry me, daddy" actually works. For five years, she's been sending Jake T. Austin, star of Wizards of Waverly Place and Hotel for Dogs, tweets like "You're amazing; sorry just thought you should know that :)" and "I'm gonna deff try & meet youu this summer!!" After five years of tweeting and a meet-up at Planet Hollywood in 2011, the pair — if you can even believe it — are actually dating. In real life. Yes, I know. It's wild!
Austin shared a snap of the two kissing to his Instagram account, which bewilderingly has 1.4 million followers, with the caption "I'm crazy for her" followed by a suspicious blue-colored heart. Caesar then did the same, but has since made her Instagram account and Twitter private. Hate to be a mom but I don't think this relationship is such a good idea!!