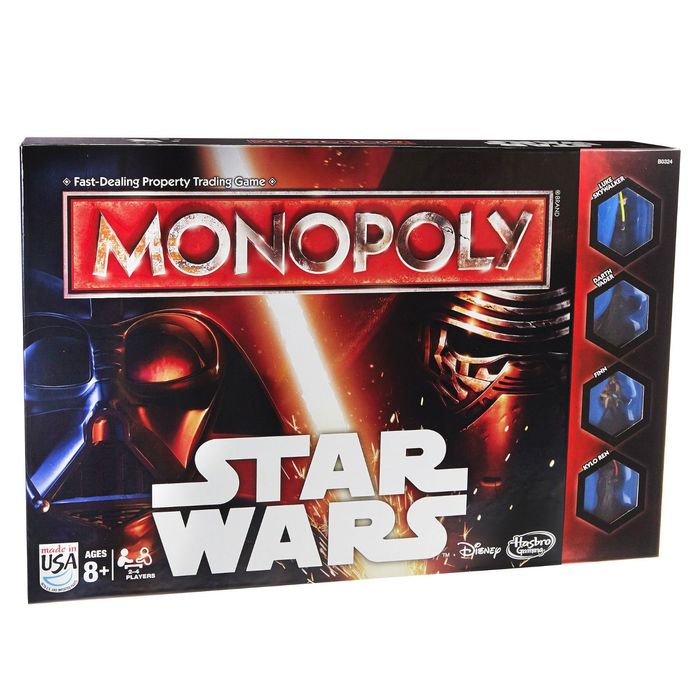 It's game night. So, your family pulls out the new Star Wars edition Monopoly board, and almost immediately, everyone starts fighting over who gets to be the Rey monopoly piece — because she's indisputably the best, and while you'll settle for being Finn, if you get stuck being fluffy-haired Kylo Ren, you'll flip the table and put an end to this game night, so help you God.
Well, Hasbro has gone ahead and saved you the bloodshed. Sorry, Rey fans, young and old, male and female, but nobody gets to be Rey: She's not included in the game. But you can still be Luke, Darth Vader, Finn, or Kylo Ren.
The Monopoly slight is not the first time Rey has been left out of merch opportunities. While Daisy Ridley's character is without a doubt the protagonist of Star Wars: The Force Awakens, there's been a real dearth of Rey-themed merchandise on the market, leading fans to create a #WhereIsRey hashtag. But Hasbro has a good … well, they have an explanation as to why. According to a statement:
"The Star Wars: Monopoly game was released in September, months before the movie's release, and Rey was not included to avoid revealing a key plot line that she takes on Kylo Ren and joins the Rebel Alliance … fans will see more Rey product hitting store shelves this month, including 6-inch and 12-inch Rey action figures. We are thrilled with the popularity of this compelling character and will continue to look for ways to showcase Rey across all of our product lines."
Hasbro might have risked looking slightly sexist for a little bit there, but thank Yoda the company protected all those spoilers that could have been predicted through a board game.
After plenty of fan outcry, including a spot-on letter from this 8-year-old, Hasbro has decided to add Rey to the set. (There she is!) The toy company posted an updated statement across its social-media accounts late Tuesday night:
Makes sense.
This post has been updated throughout.