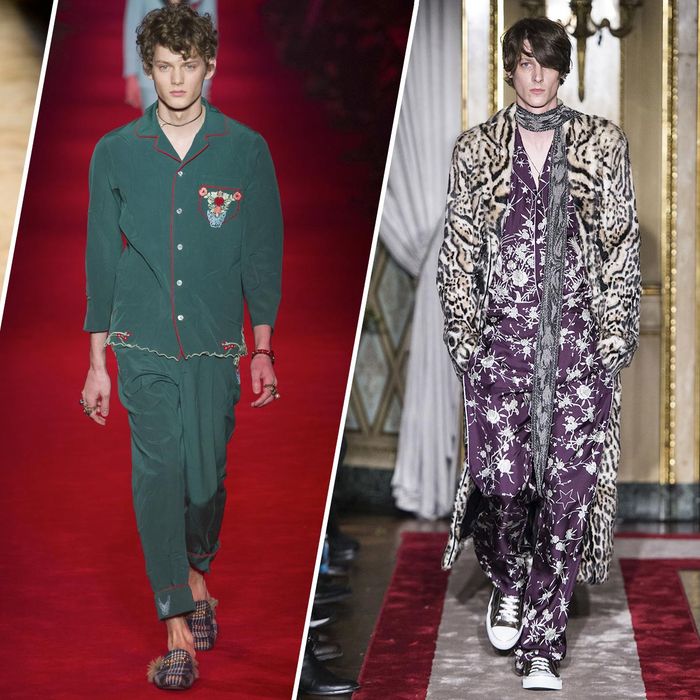 If you are a man alive today, chances are you don't own any pajamas. You have clothes you sleep in, but few of us ever go full Hugh Hefner in a silky nightclothes set. But in Milan, where the men's fall '16 fashion week just came to an end, models marched down the runway in actual jammies — luxurious, beautifully cut, extravagantly detailed designer jammies.
On day one of the shows, Repubblica.it fashion editor Simone Marchetti arrived wearing PJs and an overcoat, declaring on Instagram, "Pijiama [sic] is going to be the new black."
New? Well, not exactly. Marc Jacobs spent much of 2013 wearing them, Julian Schnabel has made pajama dressing for parties his thing, and Ryan Gosling co-signed the pajama in Cannes during the press run for Drive in 2011 — all formidable contributions to the men's style canon, if none powerful enough to jump-start a full-blown trend.
But this week in Milan we saw Dolce & Gabbana, Boglioli, Fendi, Gucci, and Cavalli all offer high-fashion alternatives to sweats and tees, the staple pieces for most guys whether they're lounging or not. This new extreme in unabashed casual dressing takes the DGAF attitude of wearing sweats to the office one step further. Always looking like you've just woken up from an extremely chic nap is an even greater flex than always looking like you are about to go to the gym. So-called "athleisure" shows that you have the great luxury of wellness as a priority in your life. Wearing pajamas shows that you have the great luxury of obscene wealth and social status. Especially if they're Gucci.
To be fair, menswear is lacking when it comes to references — the military, sports, Steve McQueen. So perhaps adding "sleep" to that short list is a much-needed boon.
Question is: Why pajamas? Why now? Likely it does have something to do with the image of languid luxury Alessandro Michele has crafted so compellingly at Gucci, an image that has taken hold and begun to assimilate across the industry.
But rather than agonize about the ouroboros of fashion-world influence, it's more interesting to think about why men might want to wear robes and pajamas in the first place. It could simply be the next step in this casual style revolution, but maybe there's something more to the connection between loungewear and the safety of the home. Europe and America have both seen horrific public tragedies happen in the past year. Is it any wonder the comfort of home suddenly seems so appealing?