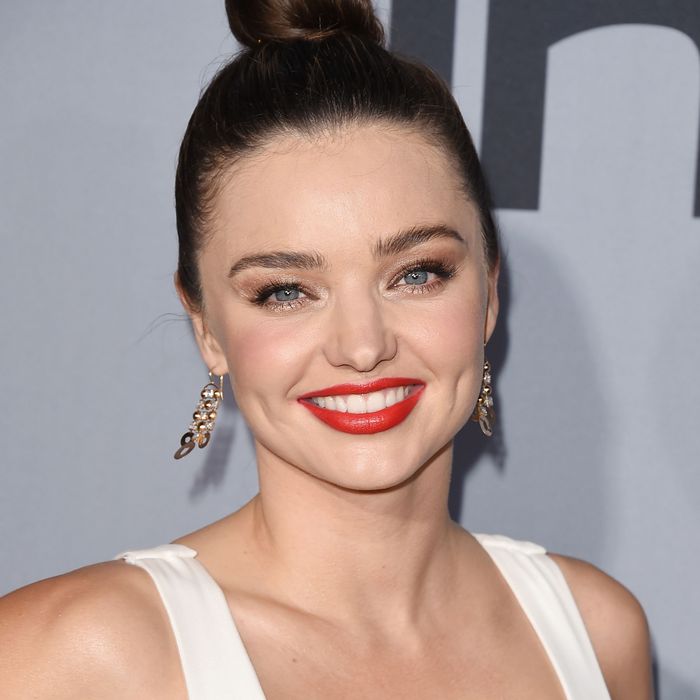 Say "thank you."
Photo: Jason Merritt/Getty Images
Miranda Kerr, ex-wife of Orlando Bloom and possible superhuman, recently moved to Malibu. "Not my business," you're thinking. "I don't know Miranda Kerr and, for me, where she lives is neither here nor there." Cute. But we're not really here to talk about where Miranda Kerr lives. We're here to talk about manners — and manners are for everyone.
According to Page Six, in an attempt to apologize for the loud construction being done on her new home, Miranda Kerr sent a bunch of gluten-free muffins to her neighbors:
"I had the kitchen and bathroom redone, so I sent them muffins — gluten-free, of course," she explained. "[A note read] 'Really sorry about the noise, thanks for your patience.'"
Muffins and a note, a fine apology from your new neighbor Miranda Kerr. "But then what happened?" you're wondering. "Huh? What happened? Hmm? Everyone replied? Said something like, 'Thanks for the muffins, they were yummy'? Yes? Hm?" Hah. Get ready for a rude awakening:
"No one replied," said the model. "No, 'Thanks for the muffins, they were yummy.'"
No one replied. No. One. No one. Please consider this a learning opportunity. Next time Miranda Kerr sends you disgusting gluten-free muffins as an apology for her the construction being done on her house:
• SAY THANK YOU!!!!!!!!!!!!!!!!!!
Miranda would also like to add this:
"I also play my music quite loud sometimes, and run and jump in the pool naked! Do you know that [Sia] song that goes 'Hey, I heard you were a wild one?'"
(That's the end of that quote.)